Over the last few years, Makerspaces have become popular ways for people to explore their creative side. A facility provides a space, a variety of materials and the visitor brings their ideas and time to make something. Locally the Victoria Makerspace in Saanich is cool place to learn and share and there are many museums getting on the makerspace bandwagon including The Exploratorium's Tinkering Studio http://tinkering.exploratorium.edu/ and Children's Museum of Pittsburg Makeshop https://pittsburghkids.org/exhibits/makeshop .
On November 15, we experimented with the makerspace concept in a workshop called "Creative Collections". Working with some community members, Ben Fast and Lauren Chancellor, we devised an event that involved using the collection to find inspiration for our creativity.
The workshop began with a trip behind the scenes to look at our handling collections. Participants looked, took notes, snapped photos and even drew sketches.
Then they went through the exhibit arts studio where our professional "makers" spend their days creating and building museum exhibits and interactives.
Back in the "lab" we provided a bevy of supplies – from clay to copper wire and lots in between.  Participants made many wonderful things including a camera made from broken records, note cards personalized with handmade linocuts and even a letter about a talking cockroach.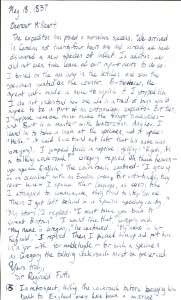 The workshop was satisfying in many ways and I am interested in exploring how it might work in a more ongoing way. At the workshop we had pretty low-tech equipment and I am not sure if that is a bad thing or not. What are your thoughts? Do makerspaces need 3D printers and drill presses or can they work as a simple, collaborative place to come together and make time for expressing your creative side.