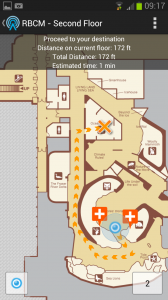 Two years ago we were approached by a local technology development company called Wifarer who had something really new to offer. They have developed a system that can locate users indoors – kind of like GPS – but rather than using satellites, it uses  Wi-Fi signals to determine your location. The appeal of this new technology was too tempting and the fact that it was a local company helped to seal the deal. However, mapping out the museum and seeing where you are is only half of what this app can do.
Because Wifarer knows where you are, it can give you location based content.  Wifarer is available at a number of venues including shopping malls, conference centres and airports. When you are at the Royal BC Museum and you launch Wifarer, the app automatically knows you are at the museum and loads our information.  When you are standing next to the Woolly Mammoth, just one example, it alerts you to additional text and audio for that exhibit.  Part of my role has been to identify points of interest throughout the museum and then source the additional material to enrich these locations including images from BC Archives, behind the scenes secrets and videos. It has been a big learning curve for me – not only about technology and apps but I also learned a lot about the museum.
Now that Wifarer is live at the museum my job will be to evaluate how visitors engage with the app. What I would like to know is if  the content appropriate, is there enough, do visitors still engage with one another and the exhibit or are they all walking around with their eyes down on the screen? Other than following people around and watching over their shoulders, all I have had to evaluate the app by has been the number of users and some on-line feedback. Although that is interesting, it does not give me really useful information.
I look forward to working with Wifarer over the summer as they update their analytic function and we can really dive in to how the app is used. In the meantime I encourage you to try it, but be sure to let me know what you think.