Our garden centres carry tropical plants as well as temperate plants for your garden. Even hardware stores like Canadian Tire, Rona, Lowes and Home Depot carry a fair selection of plants. Indoor plants often come from way south of Vancouver Island, and in the last few years, there has been a noticeable increase in people reporting the presence of stow-away lizards—usually the brown anole (Anolis sagrei). In the southern USA, the brown anole is at a population density such that accidental transport is commonplace, even expected.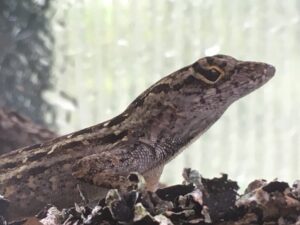 In 2020, I received several emails about brown anoles in plants bought from stores in BC. The appearance of lizards as stowaways likely is not new, but people's awareness of exotic and potentially invasive species has certainly improved. The lizards generally appear as hatchlings, after being shuttled north of the international border as single eggs in potting soil.
These days, people can easily report the strange things that crawl out of their new house plants. Records are added to iNaturalist to document the trade in plants as a vector for herpetile dispersal. We even received a cuban treefrog (RBCM 2541) in August 2020, caught at a Rona outlet in Nanaimo. While these are not "wild" records in the strict sense in iNaturalist, they are important records of assisted dispersal.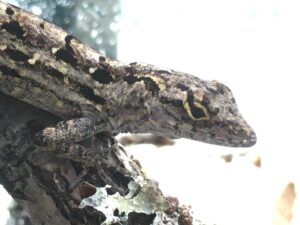 In 2020, a male brown anole appeared in Duncan on Vancouver Island in a plant bought at the Canadian Tire outlet in that city. The record is in iNaturalist. This one was small, but not a hatchling as I had suspected. I had assumed lizards arrive as eggs, deposited one at a time in the soil in plant pots. This male was thin, and it could have been in Canadian Tire in Duncan for some time. Once it was caught, it was fed and housed in luxury accommodations, and now has been dropped off to keep me company.
Brown anoles have variable thermal tolerance, with those ranging further north having a lower critical thermal minimum. In other words, those which invaded northern regions have evolved tolerance for cooler temperatures—not bad for a species originating in the Caribbean. I wonder when climate change and a warming BC coast will intersect with the minimum temperatures needed for brown anole survival? I bet they can already survive here in a greenhouse or garden centre with some measure of climate control.
Because of the cold snap in the USA in 2021 and previous polar vortex events, there was strong selection for cold-tolerant lizards. We now know of anoles that can survive down to 4.4C (Stroud et al. 2020). This means that future stowaways may come from cold-hardy stock, assuming cold tolerance is persistent as a new trait. Tolerance of colder temperatures increases the chance brown anoles could survive here in southwestern BC in the right location. The rest of Canada still is too cold to support anoles outside of a cozy warm greenhouse.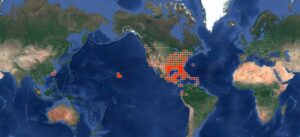 Brown Anoles are native to Cuba, the Bahamas and satellite islands, but they have become globe-hopping invaders, with a significant track record of establishment and spread in the USA since the first appearance in the Florida Keys (Garman 1887, in Lever 2003).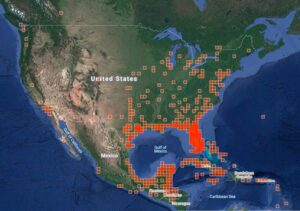 Kraus (2009) and Lever (2003) lists the following transport vectors for brown anoles, with additions by me based on iNaturalist records where the source of the lizard was specified (Canadian records in red):
Pet Trade: Canary Islands and all Hawaiian Islands.
Cargo stow away: St. Vincent, Grenada, Ontario, and the US states of Maine, Florida, Georgia, Texas, Pennsylvania, Alabama, Arkansas and Louisiana.
Intentional release: Florida
Unknown: Mexico, Belize, Bermuda, and the US state of South Carolina.
Nursery Trade:  Cayman Islands, Taiwan, British Columbia, Alberta, Ontario, and the US states of  Florida, Georgia, Texas, California, Arizona, Colorado, Vermont, Connecticut, Pennsylvania, New York, Delaware, Maryland, North Carolina, South Carolina, Michigan, Iowa, Kentucky, Indiana, Wisconsin, Mississippi, Illinois, Kansas, Oklahoma, Alabama, Arkansas, Louisiana, Ohio, South Dakota, Tennessee, Washington and Virginia.

Clearly the trade in ornamental plants is the biggest source of brown anoles, and we can expect more of these exotic lizards in the future. Fortunately they tend to ship one at a time, are unlikely to find mates, and records in iNaturalist across most of the United States represent single lizards, not established populations. But don't be surprised if you shop at a nursery someday and see these guys flitting about in search of insects. If a male and female do end up in the same greenhouse, and there are plenty of plants where eggs can be deposited, a population could easily become established. Their colonization pattern is almost like our own, surviving in a biosphere, waiting for the rest of a planet to be terraformed. But in this case, lizards only have to wait for climate warming to give them the chance at freedom.
References:  Kraus 2009.   Lever 2003.