It's a sunny November 14th, 2016. Halloween is a distant memory. Remembrance Day is still fresh in my mind. And now comes the season where shops compete with dreary songs to get us into the shopping, I mean christmas spirit. I used to hate this time of year – the rustle of dry cattails in my favorite swamps, heavy frost, the puddles with their morning skim of ice, the crisp air, Canada Geese flying off like bomber squadrons over the English Channel… It all meant one thing – snow and cold.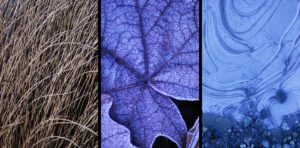 Ah what am I saying, I live in Victoria now, we haven't had snow in my neighborhood for two years now. Winter here is cool and wet, and on warm, sunny winter days you can still find lizards. Yes, the European Wall Lizard is active in winter as long as it is sunny. On November 14th, there were almost as many Wall Lizards crawling around as in summer. They were intent on basking, and given how warm the bedrock was in the sunlight, thigmothermy must play heavily into their winter behavior. Homeowners along May Street in Victoria say that Wall Lizards poke their heads out of rock walls as soon as the sun comes out in January. Other reptiles here emerge by late February to early March; the amphibians of southwestern BC are active all winter. Elsewhere in Canada amphibians and reptiles hibernate until mid-April at the earliest.
As far as I know, the only month where we haven't seen wall Lizards is December. Guess what my mission is this year?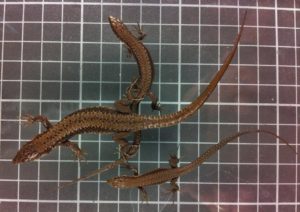 Wall Lizards from Moss Rocks Park, collected about 12:40 – November 14, 2016. Cataloged # 2125 in the RBCM Herpetology collection
You guessed it – I am on the hunt for the elusive lézard d'hiver. I hope the solstice is sunny and warm… It'd be really fun to find lizards on the shortest day of the year.