If you visit Cranbrook BC you might come across a statue of an elephant.  In 1926 an elephant called Charlie Ed escaped from the circus and went on the lam for a few weeks.  When he was eventually recaptured, he was renamed Cranbrook Ed to commemorate his time there.
In George Winkler's photo album from 1925 to 1939, there are two pictures of Cranbrook Ed being loaded onto a train.  Winkler identified them simply as "Cranbrook Ed re-captured".  This album is part of accession 197908-016 and is stored in container 000491-0002.
He also kept copies of these prints amongst some of his loose photographs identified as: "Elephant that escaped from circus at Cranbrook – 1926 – recaptured" (BC Archives photo I-30605) and "Last view Cranbrook had of recaptured elephant – 1926" (BC Archives photo I-30606).  These prints are in container 000491-0001, folder 13.
Did Winkler take these photographs or were they popular prints available for sale?  They match the other prints in his album in shape and size so it's likely that he did take them.  Lucky for us that he was in Cranbrook at the time of the elephant capture, and that he had a camera with him.
I-30605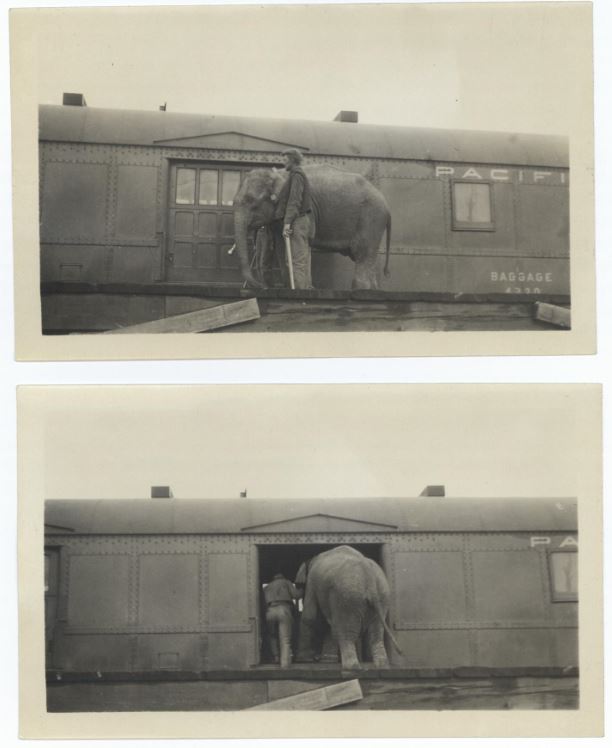 I-30606
You can visit the Cranbrook city website at http://cranbrook.ca/our-city/history/interesting-stories/ to see a picture of the statue and read the story of Cranbrook Ed the elephant.