It's one thing to build a bridge, but once it's on the books, it needs to be maintained, refurbished, repaired and generally kept safe.
Maintenance is one of the most importance functions of any Public Works or Engineering Dept., because a collapse can be disastrous.
The Chilcotin suspension bridge was built ca. 1913 and a mere twelve years later, this paragraph appeared in the Public Works report for 1925, district no. 9, 150 Mile House:
"The most important bridgework was the repairs to the Chilcotin Suspension Bridge.  The 2 ½ inch main cables on the 320-foot suspension span was shortened to give camber and rigidity to the deck.  A new deck and hand-rail truss were put on, also guy-cables, all without closing the bridge to traffic.  This bridge, which has been undergoing a series of extensive repairs during the past four years, is now in first-class condition.  E.S. Jones, district engineer."
Here are some photographs of the Chilcotin suspension bridge from GR-3293, file AAAE2160, stored in container 000705-0013.  The file contains photographs taken between 1922 and 1926.
42-2-1.2
42-2-1.3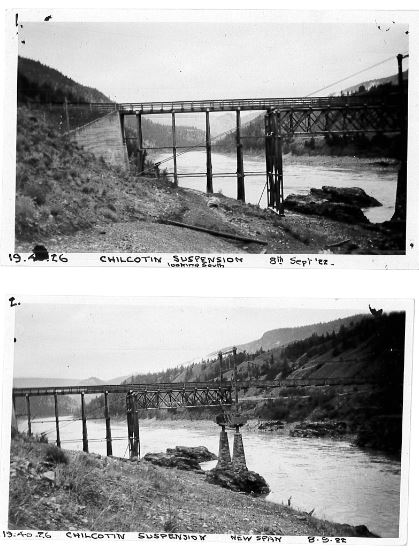 File 239 Lillooet dist. Chicotin suspension bridge 17/9/24 main cables have been shortened and lightened…inverted cable slack and counterweight boxes dismantled.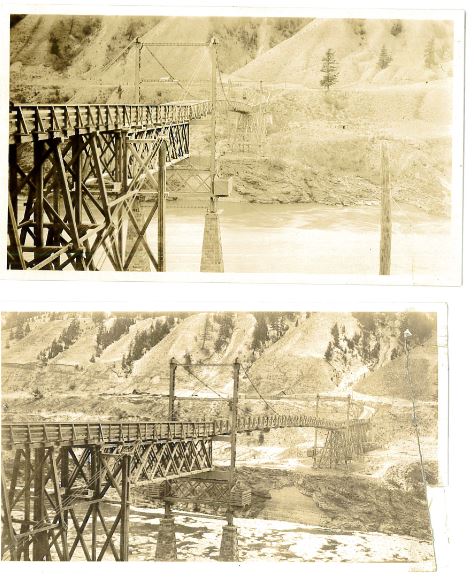 42-2-1.5 Chilcotin suspension bridge re-construction completed 8-12-24.