The ocean is renowned for its spectacular diversity: endless shapes, brilliant colours, extraordinary species and some of the most magnificent habitats on the planet – indeed, the ocean supports a great diversity of life and ecosystems. While much of this richness lies beneath the surface of the sea, sometimes (on rare and special occasions) we get to experience these hidden treasures first-hand.
This past month, the Royal BC Museum and the Victoria Natural History Society co-hosted a public beach seine. More than 100 people, including several members of the Canadian Network for Ocean Education (CaNOE), turned out on a dark November night to participate in the "in-seine" event.
The plan was to seine over a nearby eelgrass bed, catching as many species of squishy (invertebrates) and fishy (fishes) as possible. Unfortunately for our beach seiners, a large amount of sea lettuce was present near shore, resulting in a very large shrimp-fish salad. Not to be deterred by a bit of leafy green, we carefully sifted through the seaweed, discovering a variety of fascinating animals, from tiny amphipods and shrimps to large dungeness crabs, gunnels, and starry flounders. We explored, we learned, we connected. It was in-seine-ly fun!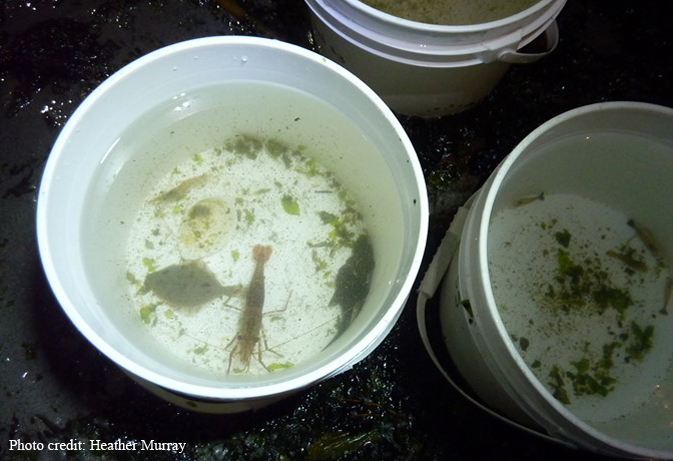 Huge thank you to Chris O'Connor and Gavin Hanke for help with organizing the event, Gavin Hanke and David Robichaud for braving cold November water, Nikki Wright for highlighting the importance of eelgrass beds, Yogi Carolsfeld, Phil Lambert, and Marilyn Lambert for sharing their expertise and passion for marine critters, Aerin Jacob for giving a positive shout out, Heather Murray for photocapturing the in-seine diversity and fun, and the avid natural historians who turned out to participate in the event.