Pre-Emption Government Records GR0112
Pre-emption was a method of acquiring provincial Crown land by claiming it for settlement and agricultural purposes.  It was also a method of selling Crown land which had not been fully surveyed, designed to quickly provide temporary title or permission to occupy land to incoming settlers, for purposes of building a homestead and commencing agriculture.
The process was formally established under the 1870 Land Ordinance (although the earliest pre-emptions began in 1859) and was terminated by the 1970 Land Act.  Under this process, individuals, as well as companies and partnerships, could purchase land, but grants to this land were not issued until specified improvements and residency requirements had been completed, and the land had been fully surveyed.
Pre-emption records are arranged by district and were transferred to BC Archives from the Department of Lands, Forests and Water Resources in 1976.
These record books were at times referred to as "Gum Stub" or "Guard" books.  Documents were placed into the book, a gummed strip of brown paper adhered on top, and subsequent layers of documents positioned upon the next until the final document of a Crown Grant was issued.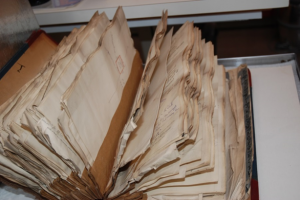 Crown land pre-emption record book
Information on many pages in these record books are obscured by a gummed strip, the pages can be brittle and difficult to turn. The risk of damage to the fragile documents is high.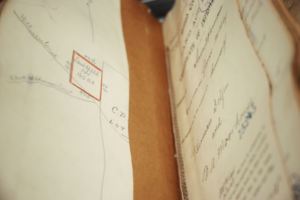 Gummed brown strips obscuring information
To prevent further damage and associated information loss caused by age and client handling, preservation staff have removed the glued brown paper gummed stubs to reveal information previously hidden by these, or covered over when the documents were adhered to one another.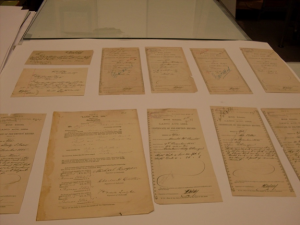 Records after treatment to remove gummed brown strips
These documents are now available for use by genealogists as well as people researching pre-emption records for land use issues such as First Nations land claims, environmental assessments, historical land use policy and legal disputes.