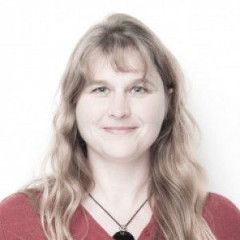 Claudia Copley has been a collection manager at the Royal BC Museum since 2004. She is responsible for maintaining the entomology collection, which includes insects, arachnids and myriapods, a collection with more than half a million specimens.

Each year, during the summer field season, you will find Claudia exploring an area of British Columbia with collecting equipment in hand. Currently an area of collection focus is an attempt to document the spider fauna in the province, especially at high elevations. Approximately 1,000 species are expected to be found, and the final product of these surveys will be a handbook to the spiders of British Columbia.
Education
Claudia's graduate degree was focused on the spider fauna of the ancient forests in the Carmanah Valley, but her interests include everything entomological.
Areas of Interest
Terrestrial arthropods

Spiders: distribution, life history

Insects: distributions, anthropogenic impacts, invasive species