'Tis the season: northern alligator lizards are busy making little lizards.
Have you seen alligator lizards mating? If so, please take note how long they spend together. Males bite the head and neck of females and hang on, sometimes for over 24 hours. Mating itself doesn't take 24 hours—so perhaps males hang on to make sure other males are excluded.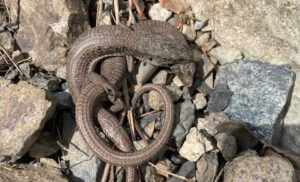 In BC, the alligator lizards tend to vanish when new urban developments spread across the landscape—maybe (probably) the habitat is unsuitable, roadkill happens, a certain invasive lizard certainly doesn't help, and well-fed domestic cats also take their toll, as do lawn mowers and weedwackers.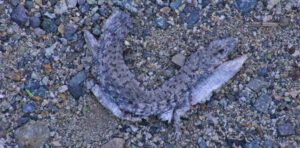 But if you are lucky enough to have northern alligator lizards in your garden, please take detailed notes on their activity, prey, and how they use your garden structures. It's also helpful to record mating activity and how long a pair stays together. Community science (sometimes called citizen science) is a way to get very detailed views of species distributions to see how species are responding to our increasing sprawl.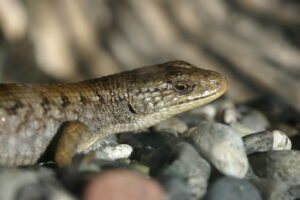 Greg Pauly, curator of herpetology at the Natural History Museum of Los Angeles County, studies natural history, evolution and conservation of reptiles and amphibians, and the impact of urbanization on biodiversity.
You can share photos and information with Greg at gpauly@nhm.org.

Here are a few of his blog posts:
Love in the Time of Coronavirus: The Alligator Lizard Version 
Look Out for Amorous Alligator Lizards 
Studying Lizard Love Through Citizen Science