Government is constantly evolving to meet the needs of the citizens it serves. This often results in the renaming and reorganizing of its various branches and departments. These changes can make it tricky to track which government body was responsible for creating and maintaining particular records through the years. To help myself better understand who created some of the land records I was working with, I set out to create a visual representation of how the land management functions of government moved around over time. This soon expanded to include several other ministries whose records I worked on. It eventually grew to cover all ministries (and their precursor departments) from 1871, when the province was created, to 2021.
Please see Overview Diagram of Ministries 2022 for the most current version of the diagram.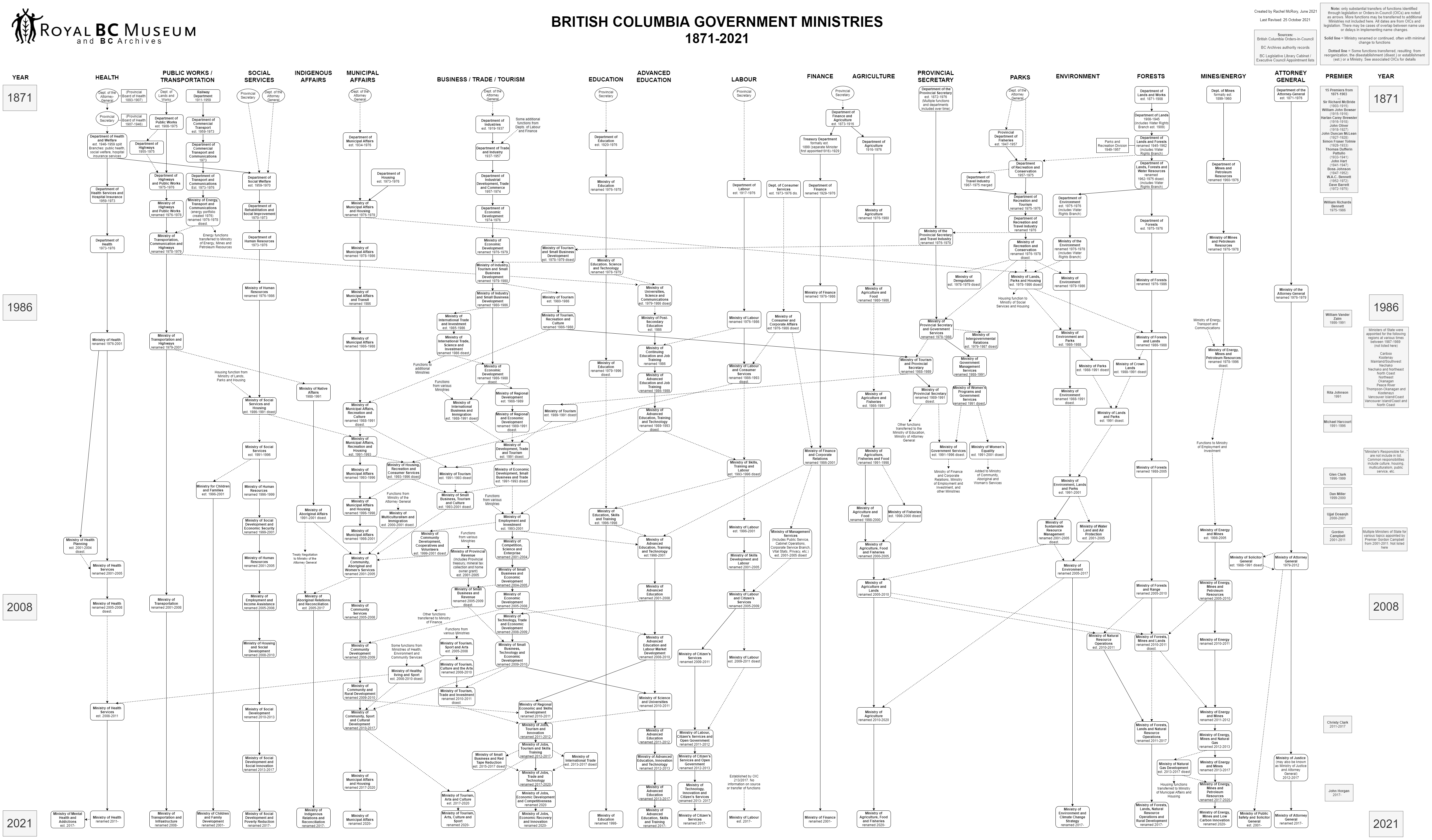 I created the chart using information from BC Archives authority records, Orders-in-Council and lists of Cabinet Appointments from the Legislative Library. Ministries are shown in square bubbles and are connected to each other with arrows. The oldest departments are at the top, moving down to the current ministries at the bottom of the page. The ministries are arranged in columns that represent broad categories of government functions, such as health or agriculture.
Arrows with solid lines show that a ministry was renamed. This usually means it continued to do pretty much the same work and fulfill the same functions of its predecessor.
Arrows with dotted lines show that some functions moved to another ministry. Dotted lines also show links from ministries that are established (created) and disestablished. I was only able to note large changes; sometimes the various branches that make up a ministry were split between a half dozen other ministries, making it pretty impossible to track all their movements individually.
The complexity and change over time make this a bit overwhelming to look at all together. But the changing names of a ministry can provide a high-level snapshot of general trends in government's priorities over time. Each ministry is usually focused on a single function or issue, such as providing health care or managing public forests. The evolution of ministries reflects what government thought was important—and what mattered to voters. To a certain extent, this also reflects what mattered to society at large, though government was dominated by white men for most of the province's existence, and universal enfranchisement did not occur until 1952.
Government departments changed very little from the province's creation in 1871 until the 1970s. Government was small. Initially, the Attorney-General and Provincial Secretary were responsible for functions that would be divided among a dozen different ministers today. The major changes involved the creation of new departments as the role of government began to expand in the twentieth century.
Initially, building infrastructure and promoting the industrial harvest of natural resources (to expand economic opportunities for other white settlers) appears to be more of a priority than providing social supports. For example, two separate departments for railways and public works were established almost 50 years before the Department of Health Services and Department of Social Welfare were finally created in 1959.
In 1976, all departments were renamed and became ministries. After this point, changes became much more common. By the 1990s it seems to have become fairly standard practice for a newly elected government to reorganize Cabinet, appointing new ministers to differentiate themselves from the previous government and reflect changing priorities throughout their term in office.
Some ministries have remained remarkably similar over the last hundred years. Others have been regularly broken up, combined and moved around in ways that, at times, can seem confusing and a bit counterintuitive. For example, in 1978, the Ministry of Recreation and Conservation was disestablished and broken into several ministries, including a new Ministry of Deregulation.
Names have power. Word choice can really impact how people perceive things, and the level of importance or value they place on an issue. The arm of government responsible for social services provides a good example of this. It has fulfilled fairly similar functions over time, but the language around the work has evolved alongside societal beliefs about poverty. It began in 1959 as the Department of Social Welfare. Later names included the Department of Rehabilitation and Social Improvement, the Ministry of Human Resources and the Ministry of Employment and Income Assistance. Currently, it is the Ministry of Social Development and Poverty Reduction.
Establishing (or disestablishing) a ministry shows that government is assigning its affairs a certain level of importance, with an elected official appointed to focus on the function or issue. The creation of a Ministry of Women's Equality in 1991, when BC's first female premier Rita Johnson was in power, shows women's equality was an important issue for government at the time. In 2001, this ministry was disestablished and lumped into the Ministry of Community, Aboriginal and Women's Services with four other disestablished ministries, including the also-disestablished Ministry of Aboriginal Affairs.
Overall, I have found the chart a helpful way to track government's changing responsibilities at a glance. My hope is that it can be a useful tool for researching archival government records. A record's creator (often the ministry or department that created it) is one of the main things archivists look at when arranging and determining different series of government records (GR-numbers) in the BC Archives database. If you can think about the ministry that may have created the records you are looking for, it may provide access to some unexpected results. You can search for archival records by creator here.
Happy researching!