I don't expect to get new lizard range records in mid-November, especially since the weather has been so grey and cool. This month it seems we have had wind storm after wind storm. Our northern alligator lizard (Elgaria coerulea) should be down for winter—maybe an occasional one will appear on really warm days. Common wall lizards (Podarcis muralis) will emerge, but only when it is sunny. I have seen wall lizards active in sun-exposed locations when the air temperatures are only 5–7°C. But since I have been indoors, I have resorted to correcting United States lizard misidentifications on iNaturalist.
This Monday morning (November 16th, 2020) is grey and cold, and another wind storm is due tonight. But to my surprise, I received an email from Nicole Greenbaum at Paridon Horticultural Ltd. in Delta, BC. She found a lizard in the company's tropical greenhouse and had correctly identified it as a western fence lizard (Sceloporus occidentalis). Nicole's discovery is western fence lizard #2 for British Columbia (and Canada).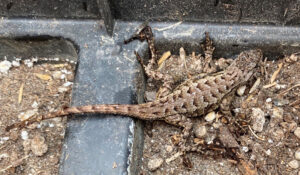 Canada's second confirmed western fence lizard; photo by Nicole Greenbaum.
The greenhouse is heated throughout the winter, and so if they are not able to catch this little lizard, it will have quite the winter. Of course I have asked them to catch it to represent BC's first specimen for the museum collection. Photos are useful, but a specimen is better.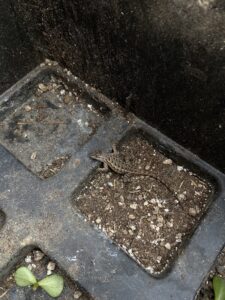 Who wouldn't want to live in a tropical greenhouse? Photo by Nicole Greenbaum.
This lizard is a juvenile, with a body just over 3 cm. From the photos, I can't tell whether it is male or female. But the record is now in iNaturalist.
It is possible that a female laid eggs and even more are in the greenhouse, but most likely, this is a single stowaway that came in with a shipment of plants. We have no idea where it originated, nor when it arrived. The greenhouse has not received plants from the United States in some time (it is 2020 after all), so the lizard has likely lived there all summer. I suppose that is effective, pesticide-free insect control.
I wonder when the next one will make its way north of the United States border?