What does a cork have to do with my research? Cork was produced in Europe and North Africa and shipped to North America in bulk until the Atlantic was blockaded during WWII. Stow-away pests were inevitable.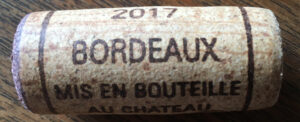 In the 1940s, the western green lizard (Lacerta bilineata) was introduced repeatedly to Gloucester, New Jersey, as a stowaway in bales of cork bark (Kraus 2009; Burke and Deichsel 2008; Lever 2003; Conant 1945). In 1944, a single specimen of the ocellated lizard (Timon lepidus) also was caught on the Gloucester piers (Conant 1945). Common wall lizards (Podarcis muralis) also appeared over several years in New Jersey in the 1940s from shipments of cork bark (Kraus 2009; Conant 1945). The diversity of stowaway lizards underlines the ease and risk of accidental transport of lizards. Maybe the switch to synthetic stoppers has plugged this international leak in border security.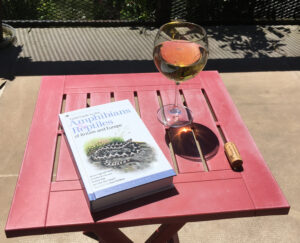 All corks aside, British Columbia's wine region has been invaded twice by common wall lizards (that we know of). In 1983, a handful of these invasive lizards were intentionally released in two private gardens in Summerland. Fortunately for the ecology of the Okanagan valley, the Summerland introductions failed. The second invasion, in 2015, consisted of a lone wall lizard found at a vineyard in Osoyoos, transported as a stow-away in a shipment of grapes from Vancouver Island. Fortunately for fans of BC wines, the lizard was removed before grapes were crushed, and died in captivity.
You can see the record in iNaturalist, though the exact location in Osoyoos area has never been pined down.
While writing this short post I tripped across a website for the LacertA Winery in Romania. Their label showcases the eastern green lizard (Lacerta viridis), which grows to 45 cm total length. Imagine if eastern green lizards had been released here instead of the much smaller common wall lizard!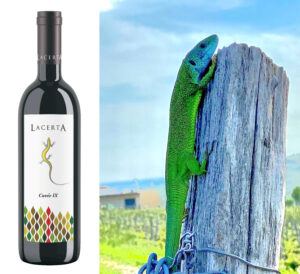 Photos courtesy of Walter Friedl, managing partner, LacertA Winery.
According to Speybroeck et al. (2016), Romania has us beaten for lizard diversity with the snake-eyed skink (Ablepharus kitaibelii), eastern slow worm (Anguis colchica), slow worm (A. fragilis), the steppe runner (Eremias arguta), sand lizard (Lacerta agilis), Balkan green lizard (L. trilineata), meadow lizard (Darevskia praticola), viviparous lizard (Zootoca vivipara), common wall lizard (Podarcis muralis) and Balkan wall lizard (P. tauricus). And now I can't look at, or open, a bottle of wine without thinking of lizards.
References:
Burke RL, Deichsel G. 2008. Lacertid Lizards introduced into North America: History and Future. 347-353. In: Urban Herpetology. Mitchell JC, Jung Brown RE, Bartholomew B. (eds).  Society for the Study of Amphibians and Reptiles. Salt Lake City, Utah.
Conant B. 1945. More reptiles in cork shipments. Copeia 1945(4):233.
Engelstoft, C., J. Robinson, D. Fraser and G. Hanke. 2020. Recent rapid expansion of European Wall Lizards (Podarcis muralis) in British Columbia, Canada. Northwestern Naturalist 101(1): 50-55.
Kraus F. 2009. Alien Reptiles and Amphibians: A Scientific Compendium and Analysis. Invading Nature: Springer Series in Invasion Ecology 4. Drake JA (ed). Springer, New York.
Lever C. 2003. Naturalized Reptiles and Amphibians of the World. Oxford University Press, Oxford.
Speybroeck, J., W. Beukema, B. Bok, J. Van Der Voort, and I. Velikov. 2016. Field Guide to the Amphibians and Reptiles of Britain and Europe. Helm Field Guide Series, Bloomsbury, London, United Kingdom.