I learn new things just by sitting in my garden and watching the behaviours of common wall lizards (Podarcis muralis). Flies may be fast, but lizards nab them. I put cutworm grubs on a pile of rocks and lizards happily sneak up and grab them too. Lizards eat ants.
People tell me wall lizards eat earthworms, even dried earthworms. I have received photos of wall lizards eating wasps. Wall lizards eat each other. They eat their own eggs.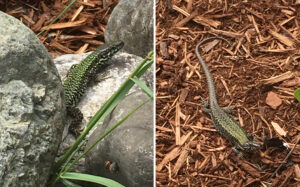 But one thing that is abundant in my garden that lizards leave alone is the ladybug. We have several species of ladybug. The lizards have specific rock piles they seem to hold as resident territory, especially this pair of adults (above)—these two are always close to a small rock pile in my garden.
Right now, those same rocks are covered with larvae, pupae and adult ladybugs. Ladybugs smell bad because they emit:
2,5-dimethyl-3-methoxypyrazine (DMMP)
2-isopropyl-3-methoxypyrazine (IPMP)
2-sec-butyl-3-methoxypyrazine    and
2-isobutyl-3-methoxypyrazine
The smell is described as a mixture of nutty, green bell pepper, potatoes and mould. I assume ladybugs taste like they smell. Even the yearling lizards in my garden are leaving the pupae and larvae of ladybugs alone, so they must learn early to leave ladybugs alone.

Even a small number of ladybugs can taint a batch of wine, and since lizards taste their way through the garden, constantly flicking their tongues, it is no wonder they leave ladybugs alone. Lizards likely don't even have to bite a ladybug to know it is unpalatable.
Ladybugs and wall lizards do however eat the same prey—aphids. Gardeners may be happy to have both of these colourful predators in their gardens.
The chemicals in ladybug emissions are from:
Rovner, S.L. 2007. Why Ladybugs Smell Bad. Chemical & Engineering News. https://cen.acs.org/articles/85/web/2007/03/Ladybugs-Smell-Bad.html