During the yuletide season of 2014, Rhapsody was found dead. Her unborn daughter had died days earlier. Rhapsody was unable to expel her calf and died from the decay and infection. Her calf was examined at the pathology labs in Abbotsford, then returned to Vancouver Island so that we could prepare her skeleton. She sat in a freezer while we debated the best way to prepare so delicate a skeleton.
In the spring of 2019, Mike deRoos of Cetacea Inc. decided we should immerse the calf's remains in a tank of warm water which was oxygenated with an airstone, and let bacteria do the work for us. Once the tank was ready, I drove to Saltspring Island with a fragrant tub in the back of my car.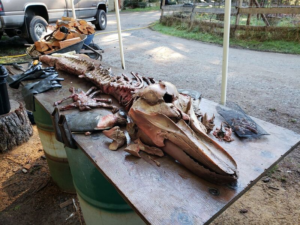 Months later, the bones were ready for pickup. My car is nicknamed Tydirium – after the shuttle from the Return of the Jedi – it still smells new inside. Fortunately, the car still smells ok after shuttling a foetal orca back and forth from Saltspring Island.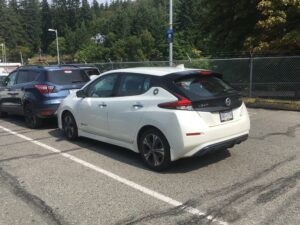 Now I have the task of sorting out all the disarticulated bones and putting them back in order. Rhapsody and her calf will be displayed alongside each other in our Orcas exhibit opening May 2020.
Like humans, bones of a newborn are still growing – and skull bones are not solidly sutured together. The skull bones from Rhapsody's calf came apart. Vertebrae are not fully formed either – the neural arches, lateral processes, centra and cookies are all separate. What a puzzle! Ribs, sternal ribs – all of these need to be sorted out. And then there are the finger bones in the flippers – I was not looking forward to sorting these out.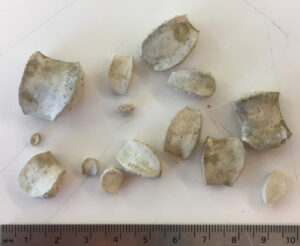 But here is where Mike deRoos saved the day – he arranged to have the calf's flipper x-rayed, and the image printed at full size is better than an IKEA or LEGO instruction booklet to guide reconstruction of both left and right flippers.
The three carpals and a few of the distal phalanges are not formed – and the metacarpals and phalanges are widely separated by cartilage. But the size and shape of each bone is so distinctive, that I was able to place each bone where it should go in minutes. Two phalanges from the fingertips of the right flipper were lost during preparation – but overall the flippers look great.

Ribs are next.