Some people get angry when they miss a bus. This morning as I crossed Bowker Creek, and saw my bus heading south. It was a cool morning. It had rained overnight. The air smelled of spring. Birds were everywhere. Missing the bus was a good thing.
Even along suburbian streets, you can do a bit of bird watching when you miss a bus. Regulars along my street include: Northern Flicker, Common Raven, Northwestern Crow, American Robin, Bewick's Wren, Merlin, Spotted Towhee, Chestnut-backed Chickadee, and Anna's Hummingbird.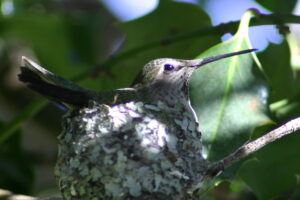 A nesting Anna's Hummingbird – our neighbour's Holly bush makes pretty safe nesting habitat.
Overhead you can see a range of gulls, Great Blue Herons, Red-tailed Hawks, Turkey Vultures, and Bald Eagles. Mallards and Canada Geese fly over on their way to and from the local golf course water traps, and a pair of Mallards have taken up residence on the neighbour's lawn.
And it is no surprise we have exotics like the California Quail, House Sparrow, and European Starling.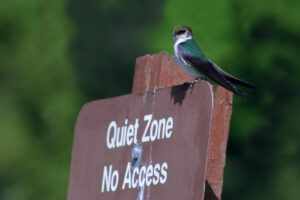 Violet-green Swallow – always fun to see them overhead.
In summer we get Violet-green Swallows, Barn Swallows, Downy and Hairy Woodpeckers, White-crowned Sparrow, Purple Finches, and the occasional Western Tanager, Wilson's Snipe and Common Nighthawk. A few years ago over 30 nighthawks cruised the neighbourhood – that was neat. Steller's Jay, Varied Thrush, Golden-crowned Sparrow, and Dark-eyed Junco are more common in winter.
Missing from this list is owls – there have to be suburban owls in my neighbourhood – especially Barred Owls – I just haven't seen any.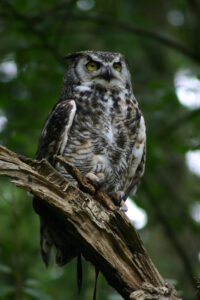 Great Horned Owl – not in my garden though (the jesses give it away).
This morning I walked smack into the middle of an irruption of Bushtits, Chestnut-backed Chickadees and Golden-crowned Kinglets. It's hard to be mad at missing a bus when you are surrounded by those tiny energetic birds, each searching for a morning meal. Then an Anna's Hummingbird chased one crow away, and while another crow flew by with nesting material in its beak. Seconds later, the bus arrived to ruin the fun – everyone on board staring at their smartphones.
I wonder if any of the passengers were checking a birding app? Were they on iBird?  Ebird? Or adding a sighting to iNaturalist? I wonder how many know that a smartphone can be used for more than playing Angry Birds.
The diversity of wildlife apps is increasing at a time when global biodiversity is in peril. Some apps like the Sibley's bird guide on my phone are more for simple identification and to log your life list. Others feed into bigger networks that help science and feed into wildlife management decisions.
Not sure which app is right for you? Read this review of 5 top birding apps.
If you aren't interested in slogging through a birding app in a phone or tablet, maybe this would be for you – a project proposed for Google Glass – Glass Birds – as for this YouTube video though – anyone can ID a Western Tanager.

I wonder if Glass Birds is refined to ID birds like this Rock Wren? I need the Google Glasses for gulls, some sparrows, fall warblers, flycatchers, and shorebirds, and best of all, I would be a taxonomic cyborg!