Nitinat (T12A) was a well known Orca along the BC coast. Born in 1982, he was a fixture along the BC coast and an active participant in the 2002 attack on a Minke Whale in Ganges Harbour, Saltspring Island. This animal – with its characteristically wavy dorsal was found dead off Cape Beale near Bamfield, September 15th, 2016. Funds weren't available to prepare the entire skeleton, so I had to settle for the skull and jaws.
As you can imagine, the head of an orca would pop the frame of any domestic chest freezer, and it blocked the aisle of the walk-in freezer at the Pacific Biological Station in Nanaimo. It was also no small feat to fork-lift the head into the museum's van, and then get it back out of the van and wheel it to the museum's walk-in freezer. It also was a surreal experience driving around with an orca head in the truck. The head is heavy – and slippery – and difficult to tie down – so I drove smoothly to avoid having the head roll around behind me. Imagine explaining to an insurance company how an orca head caused you to lose control of your vehicle?
Nitinat's head was prepared by Mike DeRoos and Michi Main – their internationally acclaimed business, Cetacea, focuses on cleaning and articulating whale skeletons. While preparing this skull for burial, they noticed that Nitinat had broken teeth. Given that I broke a molar on a frozen Reese's Piece in a Dairy Queen Blizzard, I could imagine how Biggs Orcas could break a tooth when biting down on a sea lion or elephant seal. Large pinnipeds have dense bones.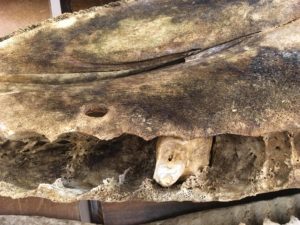 Once the skull was cleaned, Mike and Michi found that not only were teeth broken, there also is a nickle-sized hole in the palate and many teeth were abscessed.  The hole in the palate is particularly interesting. It has smooth sides and so certainly had healed before Nitinat's death. Was it a puncture and the source of the infection that caused the distortion of the teeth? Or was it a channel for the abscess to weep into Nitinat's mouth (not a pleasant thought regardless).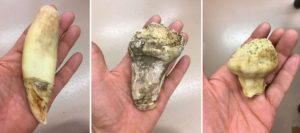 Normal teeth (left) have a long root and recurved crown, with natural wear for their ecotype – but the abscessed teeth were stunning with their broken crown and expanded root. They almost remind me of some squash varieties that are available.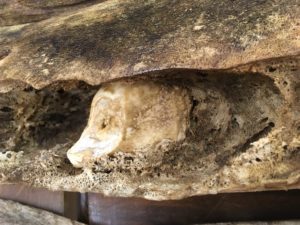 One of the teeth is so swollen that it couldn't be removed from its distorted socket.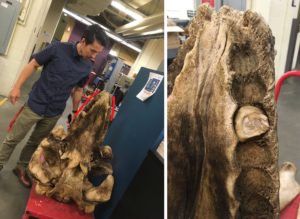 Red lines beside the skull indicate expanded tooth sockets – perhaps age and infection combined to create this effect. The sockets for the abscessed teeth were eroded and far larger than normal sockets (in this non-mammalogist's opinion). Erik Lambertson made a great scale bar.
Nitinat's teeth are enough to make anyone who has had a toothache cringe, and a dentist's eyes pop with fascination. I am just waiting for the day someone requests to see Nitinat as the focus of a pathology research paper. For now, he is a permanent addition to the Royal BC Museum collection and will soon get his official catalog number.