I've received a steady series of emails this year detailing European Wall Lizard locations here on Vancouver Island, and it's now April and wall lizards certainly are active. However, an email arrived April 11th which gave me a WTH (What The Herp) moment. The email contained a beautifully focused photo of a new turtle for BC. Then it occurred to me that I'd lost count of how many turtle species have been dumped here – unwanted pets that outlived the interest of their owners.
I really like when people send me photos of things they think are unusual – and this week's email was no exception. We know that Red-eared Sliders (Trachemys scripta elegans), Yellowbelly Sliders (Trachemys scripta2), and a Map Turtle (Graptemys sp.) have been dumped in Goodacre Lake, and Red-eared Sliders into Fountain Pond, but this new turtle photographed by Deb Thiessen (see below) certainly was not just an odd coloured slider, nor was it another map turtle. As an aside, I haven't had a chance to catch the Map Turtle in Beacon Hill Park to get a good look at it, but I have seen it at a distance, and ID'ed it based on photos from Darren Copley and James Miskelly. It looks like a False Map Turtle (Graptemys pseudogeographica). I think that'll be a summer goal, to get good photos of that turtle to be sure which species it represents.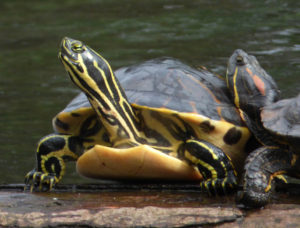 A Peninsula Cooter (Pseudemys peninsularis) from Fountain Lake, Beacon Hill Park, Victoria, BC. Photograph by Deb Thiessen, retired CRD Parks naturalist.
As you can see from Deb Thiessen's photograph, this new turtle has a large shell for the size of the head, and the stripes on the neck are crisp, and bold yellow offset by black. The bold markings to me suggested Peninsula Cooter (Pseudemys peninsularis). The short claws on its forelimb indicate it is female. Males would have claws double the length of those in the photo. This animal is way outside its normal range – Peninsula Cooters are from Florida.
This animal brings our list of pet turtles to 10 species abandoned in BC ponds and lakes – that we know of. Here is the list I have of turtles that have been found in BC – way out of their native range – and (shockingly) it parallels species available in the pet trade here in BC.
Trachemys scripta (Pond Slider – both T. s. elegans and T. s. scripta)
Pseudemys peninsularis (Peninsula Cooter)
Pseudemys concinna (River Cooter)
Chrysemys picta marginata (Midland Painted Turtle, possibly also Southern Painted Turtles, C. p. dorsalis)
Graptemys pseudogeographica (False Map Turtle)
Emys orbicularis (European Pond Terrapin – always did like the word Terrapin – a bit of nostalgia from my British roots)
Chinemys reevsi (Reeve's Turtle)
Malaclemys terrapin (Diamondback Terrapin)
Apalone spinifera (Spiny Softshell Turtle)
Chelydra serpentina (Common Snapping Turtle)
Fortunately most turtles are dumped one at a time and do not reproduce. Sadly though, I can't say the same for the Red-eared Sliders – they now can reproduce successfully here in British Columbia (I have two pets from the first successful clutch found on the south coast of BC, ca. January 11, 2015). Red-eared Sliders now are common in artificial and natural ponds and in lakes here in southwestern British Columbia – and until recently, we were sure that each adult represented an abandoned pet (or maybe the occasional escapee). Now males are finding females. Females are finding decent nesting locations. And eggs are surviving to hatch.
Knowing that sliders can breed here, I stopped to check whether sliders and cooters can hybridize, and it has been suggested to be possible – but no solid proof. And since it is better to be safe than sorry… Does anyone know how to neuter a Cooter?