In an earlier post I mentioned that Luke Halpin was out surveying marine mammals and birds from the deck of the CCGS John P. Tully, and spotted something totally different west of Brooks Peninsula. The fish was estimated at 3.5-4 meters in length, and was cruising against the current just below the surface.
But until the paper announcing his find was accepted by a scientific journal, I didn't want to spill the beans and say what he had found. His research paper (Halpin et al. 2018) will be published in the spring issue of the Northwestern Naturalist.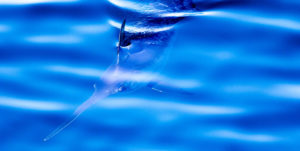 Photo by Luke Halpin, September 5th, 2017
This picture says it all – there is no debating what this fish is – only one species that fits the bill. Swordfish are known north to the southern Kuril Islands in the western Pacific, but Luke's find is the northern-most record for the species in the eastern Pacific and is conclusive evidence of this species right along our coast.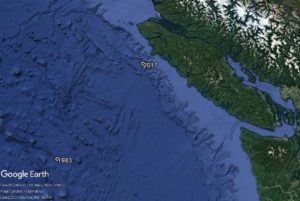 A Google Earth image showing where the Swordfishes from 2017 and 1983 were found relative to Vancouver Island.
A previous record from 1983 (see Sloan 1984, and Peden and Jamieson 1988) was from just inside of our exclusive economic zone (EEZ) and barely qualified as a BC fish. The 1983 specimen was caught as by-catch at 47°36'N, 131°03'W, during an experimental fishery survey by the M/V Tomi Maru. The rostrum and tail were preserved in the Royal BC Museum's fish collection (RBCM 983-1730-001). I am guessing the edible bits in between were cut into steaks, and ended up on someone's dinner table. At least Luke's Swordfish was left alone and for all we know, is happily cruising south to slightly warmer water.
References:
Halpin, L.R., M. Galbraith, and K.H. Morgan. 2018. The First Swordfish (Xiphias gladius) Recorded in Coastal  British Columbia. Northwestern Naturalist, 99(1): XX-XX. (pages not set)
Peden, A.E., and G.S. Jamieson. 1988. New distributional records of marine fishes off Washington, British Columbia and Alaska. Canadian Field-Naturalist, 102(3), 491-494.
Sloan, N.A. 1984. Canadian-Japanese Experiental Fishery for Oceanic Squid off British Columbia, Summer 1983. Canadian Industry Report of Fisheries and Aquatic Sciences No. 152: pp. 42.