You'd think that sharks and rays would be pretty well known along our coast. Did you know that two Hammerhead Sharks have been found off Vancouver Island? Even a Tiger Shark has strayed north to Alaska. Did it swim along the BC coast, or did it take a more direct route from Hawai'i? We'll never know. However, in 2016 a new shark was added to our fish fauna – the Pacific Angel Shark (Squatina californica) – based on a clear photograph by Mark Cantwell and his detailed description of the dive location.
We have known since 1931 that Angel Sharks ranged north to Seattle, and there is a single record from Alaska. The specimen label for this 35 cm Alaskan female had been lost (Evermann and Goldsborough 1907) and we cannot pin down its collection location with certainty. Until now, we had no Angel Shark records for British Columbia – but it was only a matter of time.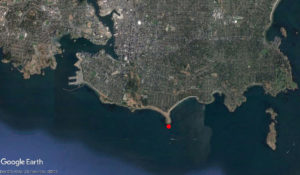 On the 30th of April, 2016, a single adult Angel Shark was sighted by a diver off Clover Point right here in Victoria. The shark's gender cannot be determined from the photograph since claspers, if present, are not visible. The Angel Shark was found in about 12 meters of water, about 30 meters off the point. The diver estimated the shark's length at about 1.1 to 1.2 meters in length. The specimen was not collected, but it would have made a fantastic museum specimen.
King and Surry (2016) published the discovery of this shark in BC in a recent issue of the Canadian Field-Naturalist. While this now is not breaking news – in fact it is a year late – people may still want the primary reference to our latest elasmobranch.
PDFs are available here [as a new paper, King and Surry (2016) is available by subscription to The Canadian Field-Naturalist or by contacting the primary author]:
Evermann, B.W. and E.L. Goldsborough. 1907. The Fishes of Alaska. Bulletin of the U.S. Bureau of Fisheries, 26: 219-360.
King, J.R. and A.M. Surry. 2016. First Record of Pacific Angel Shark (Squatina californica) in Canadian Pacific Waters. The Canadian Field-Naturalist, 130(4): 302-303.