Recent range records for British Columbia's marine fishes were based on deep-water surveys, from fisheries observers and the commercial fishery, but it is unlikely that these fishes represent northward movement due to warming climate. Deep-water fishes were captured in samples ranging deeper than 1000 m where temperatures remain cold.
In contrast, the RBCM just received two warm-water fishes – a Finescale Triggerfish (Balistes polylepis) and Louvar (Luvarus imperialis). These two species are known to range north in the eastern North Pacific Ocean during El Nino events and other warm periods, with the Triggerfish straying as far north as Metlakatla, Alaska. My predecessor, Alex Peden found Louvar in Washington, just short of the Canadian Exclusive Economic Zone and suggested that Louvar should stray into Canadian territory. Neither species has been found in BC until now, even though Brian Coad of the Canadian Museum of Nature suggested Louvar are known from British Columbia.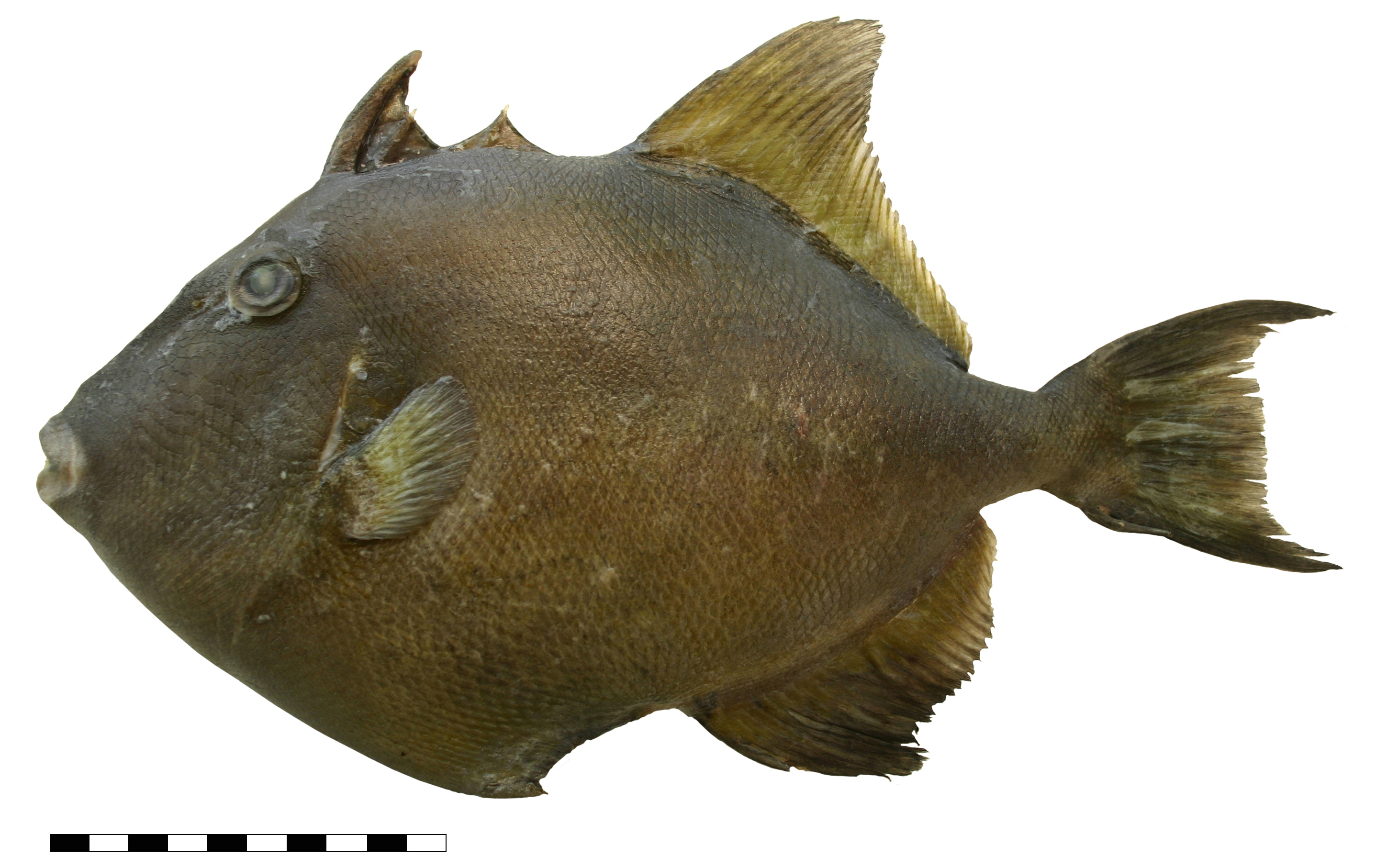 Finescale Triggerfish, Balistes polylepis, 26.3 cm Standard length (SL), scale bar = 10 cm, with 1 cm increments.
In 2013, Eastern North Pacific surface water started warming and since then, conditions remain significantly warmer during seasonal cycles than during the last few decades according to Richard Dewey, Oceans Network Canada. By autumn 2014 this warm surface water shifted eastward, and into 2015, the entire west coast of North America remained unusually warm. While surface waters of the eastern North Pacific warm when coastal upwelling is weak or delayed, storm-mixing of surface waters is reduced, and the California Current weakens during El Niño events, Richard Dewey suggests this 2013-2015 thermal anomaly along the North American coast represents a new pattern, not related to El Niño/La Niña cycles. Temperature increases like those observed since 2013 along the North American Pacific coast should allow southern species to move north either through simple dispersal or changed larval survival and recruitment.

Louvar, Louvaris imperialis,  72.0 cm SL, scale bar = 15 cm, with 1 cm increments.
As a result of this warming water, we now have specimens of Finescale Triggerfish and Louvar in British Columbia, with both found in the autumn of 2014. They now leave me wondering what's next? I am hoping for Angel Sharks and Leopard Sharks.
Additional Reading:
Coad BW, H. Waszczuk H, Labignan I. 1995. Encyclopedia of Canadian fishes. Canadian Museum of Nature, Canadian Sportfishing Productions Inc., Waterdown, Ontario. 928 p.
Dewey R. 2015. Warm North East Pacific Ocean Conditions Continue into 2015. Ocean Networks Canada e-Newsletter. <http://www.oceannetworks.ca/warm-north-east-pacific-ocean-conditions-continue-2015>
Hanke GF, Roias SM. 2012. First specimens of the marine eels Venefica ocella and V. tentaculata (Nettastomatidae) from British Columbia. Canadian Field-Naturalist 126:210–216.
Hanke GF, Gillespie G, Fong K, Boutillier J, Peden AE, Bedard JM. 2014. New records of spiny eels (Albuliformes), true eels (Anguilliformes), and bobtail eels (Saccopharyngiformes) in British Columbia, Canada. Northwestern Naturalist 95:67–76.
Hart JL. 1973. Pacific fishes of Canada. Fisheries Research Board of Canada Bulletin No. 80. 740 p.
Lamb A, Edgell P. 2010. Coastal Fishes of the Pacific Northwest. Harbour Publishing Co. Ltd., Madeira Park, B.C. 335 p.
Love MS. 2011. Certainly more than you want to know about the fishes of the Pacific coast: a postmodern experience. Really Big Press, Santa Barbara. 645 p.
Love MS, Mecklenburg CW, Mecklenburg TA, Thorsteinson LK. 2005. Resource Inventory of Marine and Estuarine Fishes of the West Coast and Alaska: A Checklist of North Pacific and Arctic Ocean Species from Baja California to the Alaska–Yukon Border. Seattle, WA: US Department of the Interior, US Geological Survey, Biological Resources Division, OCS Study MMS 2005-030 and USGS/NBII 2005-001. 288 p.
Mecklenburg CW, Mecklenburg TA, Thorsteinson LK. 2002. Fishes of Alaska. American Fisheries Society Publication, Bethesda, MD. 1116 p.
Peden AE, Jamieson GS. 1988. New distributional records of marine fishes off Washington, British Columbia and Alaska. Canadian Field-Naturalist 102:491–494.