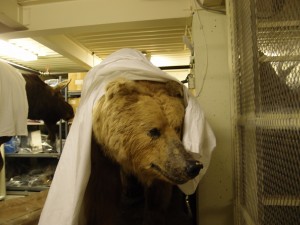 Week #24- Dr. Ken Marr, Curator of Botany
For this week we had a guest blogger take over 32 views, Bobby Orr.  No, not the hockey player.  Bobby is with us here at the Royal BC Museum creating a new set of offerings for our self-guided school program.
Take it away Bobby…
Thanks Chris!   I had a great time getting to know the club, and tagging along for the afternoon's activities!
Before our special guest arrived, I gave a challenge for the kid's club team! "What would you put inside a box to help explore the galleries?".  The idea of making a hands-on museum kit is a part of the learning department's new strategies for self-guided school visits, and who would be a better brainstorming group than the amazing minds at kid's club!?  Some great ideas were added to our box; including cameras, keys, membership cards, eyeballs to offer a different view, and, for those marathon visits inside the galleries, snacks like cookies and spaghetti (if only!).
Next, our special guest, Dr. Ken Marr, introduced us to a table full of native plants found right outside our doorstep!  We had to find ways to organize these leaves into groups.  To do this, we used our senses; we felt, smelled, and observed the similarities and differences between the leaves (sorting by taste was ruled out, as none of them looked too appetizing).
Leaf shapes turned out to be an effective way of sorting!  We were onto something.  'Taxonomy' is the sorting of living things based on their characteristics, and has been ongoing for centuries!
Much like the many ways of sorting that we came up with as a group, one scientist might disagree with another on what features should be used to sort things.
It was time to find some of the plants we were sorting!  On our way, we came across a cool photo in the lobby.  It first looked like a group of bugs, but it was actually a fern's spore flingers!
Ken told us that ferns reproduce by spores, which are made in sporangia on the bottoms of fern fronds.  The sporangia have an outer row of cells called an annulus.  When there is a change of humidity, their cells change shape, and fling the spores into the air!
If you look at it in stop motion, it looks a lot like corn popping!   (Check out  a stop-motion of the process here!!)
We finally made it to the great outdoors to find the plants we were looking at inside.  Lucky for us, we didn't need to go far.  The Native Plant Gardens right outside the entrance to the museum have all the plants we were looking for.  These gardens are BC's largest and most diverse collection of native plants!  Down the steps, you can find 400 species growing from alpine, coastal, and inland climates.
Some leaves were easier to find than others, but by the end of the day we had all found which plant each leaf was from.  Along the way, we learned about hybrid plants, sneaky nectar-robbing insects, and traditional uses for some native plants.
All, in all, it was a great afternoon to explore, ask questions, and have fun!
Thanks for letting me tag along kid's club!
Be sure to watch out for some new activities offered for schools in the upcoming month!!
Bye for now,
Bobby