People say that we should create gardens that attract bees, butterflies, and other pollinators for our benefit. Unfortunately, most of suburbia represents suboptimal habitat for other wildlife.
My wife and I bought a house near Hillside Mall in Victoria, and when we moved in, the backyard was a drab monoculture of grass. In the last four years we have built six brick-lined planters on top of the original lawn, and we grow a range of berries and vegetables. We also mix in a wide range of flowers to draw in pollinators. Bit by bit, we have noticed the garden also is attracting more birds.
In winter we get the Spotted Towhee, House Finch, Golden-crowned Sparrow, Dark-eyed Junco, Northwestern Crow, Bewick's Wren, Pacific Wren, Bushtit, Chestnut-backed Chickadee, American Robin, Northern Flicker, Red-breasted Nuthatch, the occasional White-crowned Sparrow, and our daughter's favourite – the Anna's Hummingbird. Bald Eagles, Blue Heron, Cooper's Hawks, Ravens, and a range of gulls, cormorants, and ducks fly over without landing. In summer you can add many more species to the list. We also get the usual invasive species – the European Starling and House Sparrow.
This weekend we added a new bird to our backyard fauna.
A Wilson's Snipe (Gallinago delicata).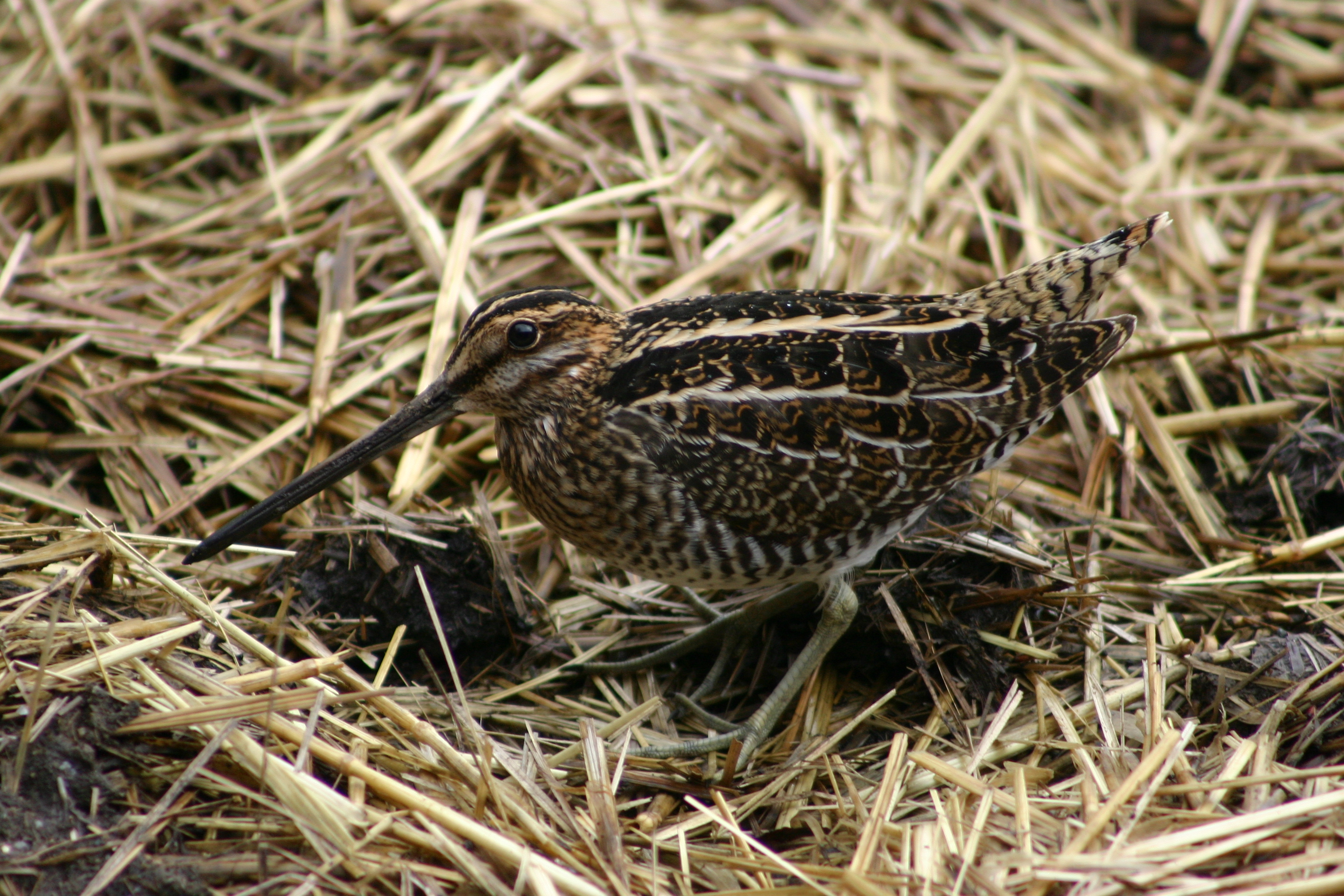 This is the closest I have ever been to a snipe – usually I see them in farmland and they blast skyward before I get a good look. I certainly did not expect to see one in our backyard in the center of suburbia.
At this time of the year, Wilson's Snipe is solitary or in small loose groups. They are year-round residents in southwestern British Columbia, uncommon in the southern interior in winter, and obviously retreat from northern BC to survive winter. In summer, they inhabit swamps, marshes, muddy and flooded marsh, river and lake margins, stubble fields, pastures, golf courses, ditches and vacant lots  throughout the province. Along the coast, snipes inhabit salt marshes and soggy lawns where the soil is easy to probe. Our garden certainly was soggy after this weekend's rain.
We have a few planters rich with a recent addition of compost and straw, and presumably those beds were loaded with earthworms.  The Snipe probed the loose soil with its long beak, and enjoyed a decent supply of worms, all the time bobbing up and down in a comical manner (in hindsight I should have shot some video). It allowed me to approach within a few meters to snap photos, and once done, I crept away to leave the bird in peace.  It stayed all afternoon.
The name of this species has bounced between Common Snipe to Wilson's Snipe depending on the vagaries of systematics, but presently it is considered separate from the Common Snipe (Gallinago2) in Europe.
I added this sighting to my Sibley eGuide to the Birds of North America on my iphone.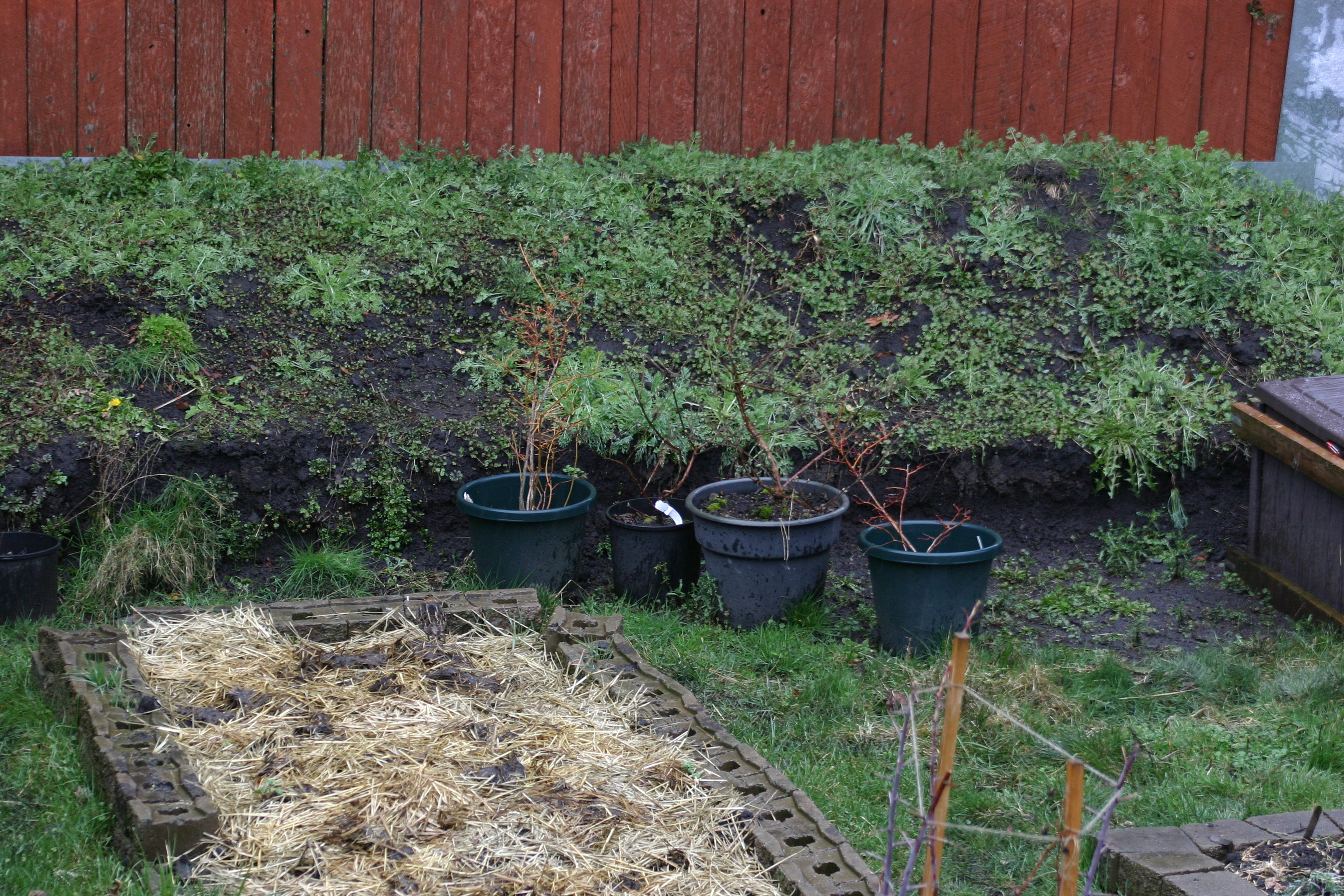 Pretty good cammouflage – they are far easier to spot when they are moving. Yes the back area needs weeding and a proper retaining wall. It is a work-in-progress, as is every garden. It all looks far better in the summer when all the plants are in full bloom.
References:
Campbell, R.W. N.K. Dawe, I. McTaggart-Cowan, J.M. Cooper, G.W. Kaiser, and M.C.E. McNall. 1990.  Pages 212-213. in: Birds of British Columbia, Volume 2. Royal BC Museum, Victoria.