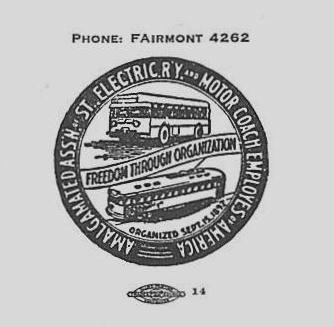 Letterheads were used to promote a business, and therefore could be quite ornate. The names on the letterhead can also be used to clearly identify what businesses and organizations existed at a particular time.
In today's society, with so many visual clues surrounding us, those clues need to be very simple to be memorable. In the days of print and early radio, those visual clues could be very ornate in order to draw the reader's attention.
Today's business names are constantly shrinking for probably the same reason.
In the days of Print, those titles were used to describe the nature of the business in detail.
Such as
Pioneer Division No. 101, Amalgamated Association of Street, Electric Railway and Motor Coach Employees of America

As opposed to
ATU Local 1724 http://atu1724.com/
The offices of the Pioneer Division No. 101….. were located in the Lee Building. Here is the (shortened) Street View Link. http://goo.gl/maps/350hw
If you have any unusual letterheads in your family archives and are willing to post them to an online photosharing service, please share the link by contacting me at  @rbcmexplorer.