Toraki Shimamoto died on 31 Oct 1945 (Reg 1945-09-670837) B13188
According to his death certificate Toraki arrived in BC at age 29 in 1907.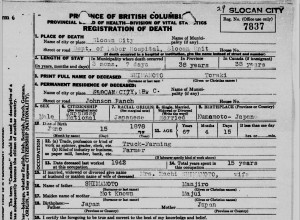 He began the occupation of Truck Farmer 20 years later around 1927. He stopped working at that occupation in 1942.
Where he worked is described as Johnston Road, RR3 New Westminster. There is no such road in the city of New Westminster and there it might refer to Johnston Road in White Rock which is quite close to the Ocean. Toraki was therefore subject to the Japanese evacuation order which took effect in 1942, the year he ceased working as a truck farmer.
(I would be interested in finding Rural Route maps from that era to confirm this. Contact me @RBCMExplorer)
According to the affidavit of Jack Milton Streight, the Official Administrator of the County of Westminster, who handled the estate, Toraki Shimamoto was indeed evacuated.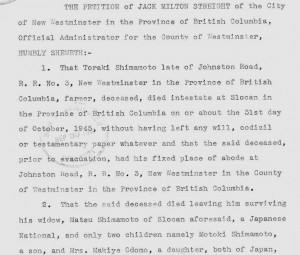 A search for an official witnessed will was made by the Custodian of Enemy property and none was found.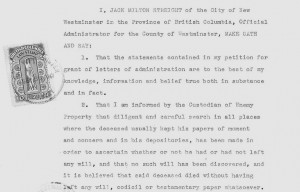 However a note purporting to be his will was discovered giving his estate to his wife who returned to Japan in in 1946 six and a half months after her husband's death.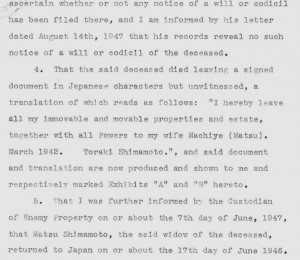 This is the note and its translation.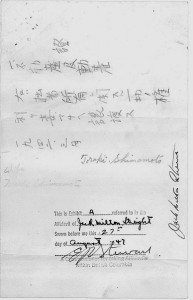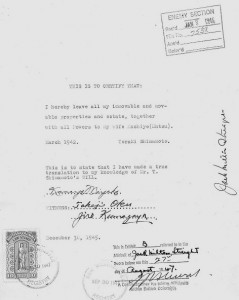 Toraki Shimamoto's estate consisted of money held by the Custodian of Enemy Property.

It was distributed equally between his wife and two children living in Japan. This probably happened because the purported will was declared invalid and therefore the estate was distributed equally between the next of kin.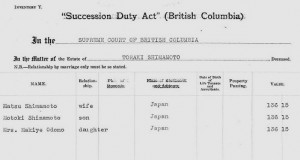 If you know additional information about Toraki Shimamoto or his family please feel free to contact me @rbcmexplorer.