Letterheads are a wonderful snapshot into the history of businesses and governments as they evolve over time. Stagecoaches, Telephone companies, Government offices all used letterheads to identify or promote themselves.
For a short time, between the end of the Ottoman Empire and the beginning of the State of Israel, The British ruled Palestine.
This image is from a probate file from that era.
Paul Petschek  lived in Cloverdale, BC.
He died in the Oak Bay Beach Hotel in 1946.
Part of his estate included a bank account in Palestine which required that his estate needed to be resealed in that jurisdiction.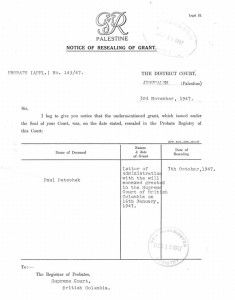 Because British ruled Palestine occurred for only a brief time, and there appears to be little interaction between it and BC during that time, it would be rare to locate a document such as this.
Other notes of interest
Part of the estate included a bank account in Jerusalem from Jacob Japhet & Company. This document explains some of the history behind this Company.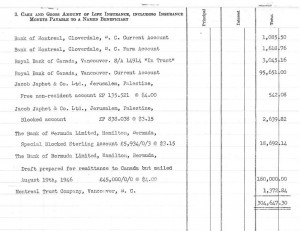 Presumably S. Japhet and Company from London was a related company. This document mentions this company throughout the document (see Pages 9 and 10).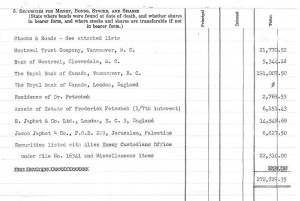 I would be interested to know what happened to these banks. Please contact me at @rbcmexplorer if you have any additional information.