Here are some great pictures that show the fabulous teamwork of our trades shop and imaging studio as they do some test scanning.
In order to scan large and fragile photograph albums created by early BC photographer Frederike Dally the imaging studio needed a rather expensive book cradle to keep the albums secure and steady for scanning.
Rick down in trades looked at various book cradles used for digitization/photography, measured the albums and created a sturdy and safe cradle for the project.  The cost to buy a cradle was steep so he saved us some money too!
The scan alone takes 11 minutes in order to get as much detail as possible for use in traditional and on-line exhibits.  Carlo, in the imaging studio, spends even more time than the 11 minute scan to set-up each individual page depending on the condition of the original image.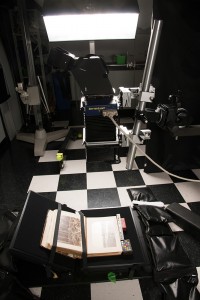 The scan covers the entire page, not just the photo, in order to capture all the information; a copy of the digital image can then be cropped and cleaned up if required.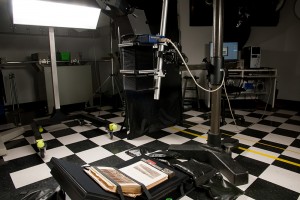 My personal preference is to see all the scratches, dust and foxing on an image, because it gives you a sense of the age and history of the object.