Sometimes opening a box at the Archives leads to a little gem of a document – something that can make the hair on your neck stand up. Last week, after having recently seen the film "The King's Speech", purely by coincidence, I happened to come across a letter written by Winston Churchill just before the First World War. Those who have seen "The King's Speech" will know that the film ends in 1939, just before the Second World War and features a cigar-chomping Churchill, by then Prime Minister of Great Britain, prognosticating about the coming war with Hitler.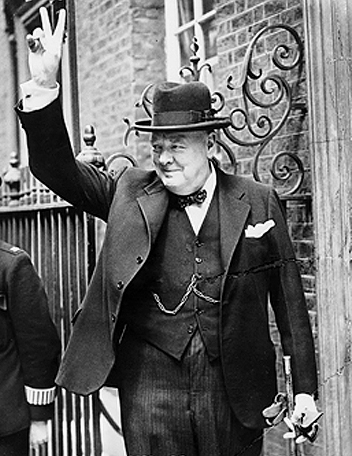 The item in our collection was written by a much younger Churchill (already Lord of the Admiralty) in 1911, and was sent to Premier Richard McBride at Christmas time. We only have a copy of the letter, as the original was kept by the McBride family, but the content and prose are so characteristic that I could easily picture Churchill at his desk at Blenheim dashing off this thank-you note. Churchill (1874 – 1965) was one of the world's great orators and writers, and was awarded the Nobel prize for literature in 1953. I think you'll agree that this unpublished letter shows both his amazing prescience and his wonderful ability with words.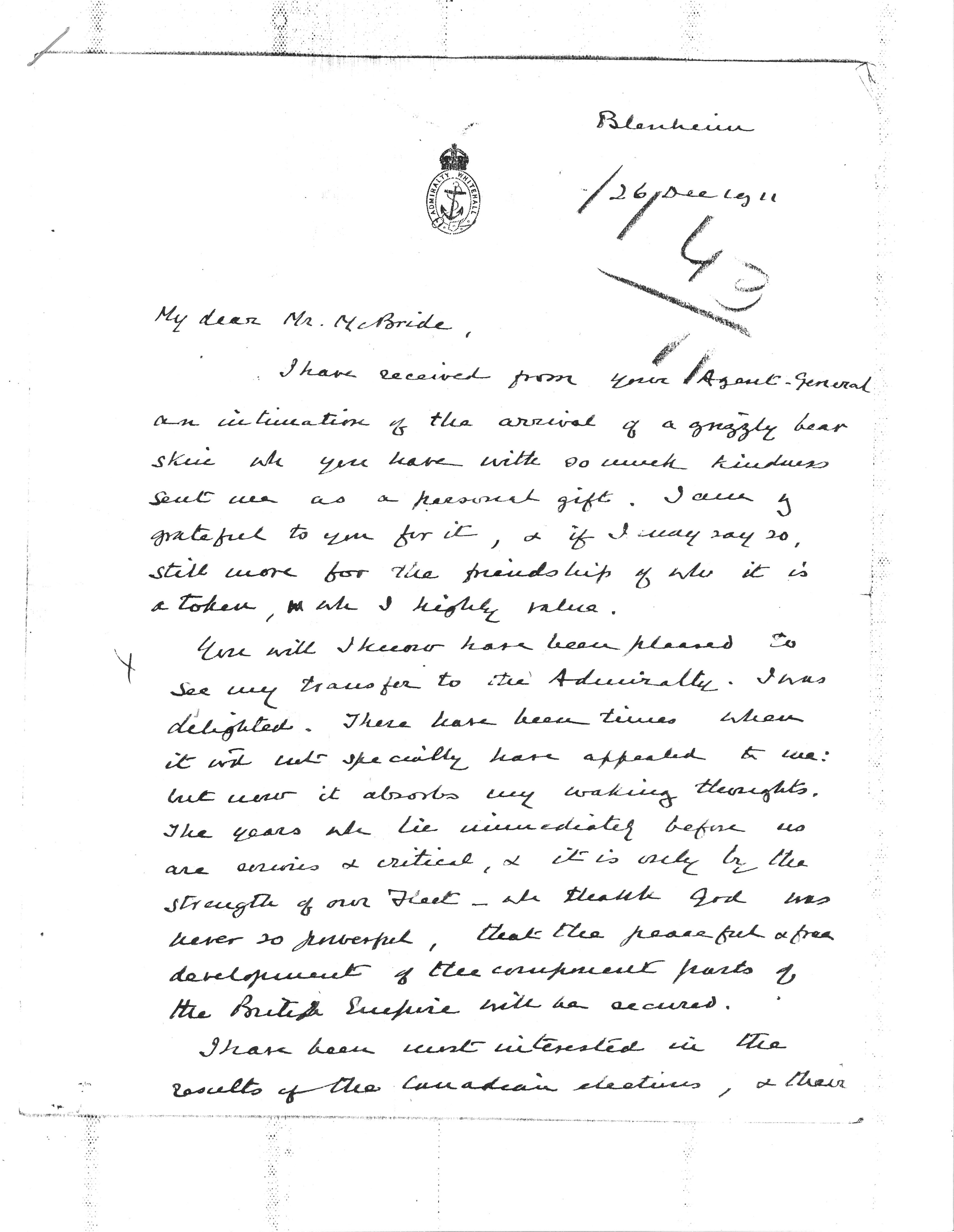 Here's the full transcript of the letter, from accession 90-0009:
Blenheim
26 Dec 1911
My dear Mr. McBride,
I have received from your Agent-General an intimation of the arrival of a grizzly bear skin which you have with so much kindness sent me as a personal gift. I am very grateful to you for it, and if I may say so, still more for the friendship of which it is a token, which I highly value.
You will I know have been pleased to see my transfer to the Admiralty. I was delighted. There have been times when it would not specially have appealed to me: but now it absorbs my waking thoughts. The years which lie immediately before us are serious and critical, and it is only by the strength of our Fleet – which thank God was never so powerful, that the peaceful and free development of the component parts of the British Empire will be secured.
I have been most interested in the results of the Canadian elections, and their effect on Canadian Naval policy. I shall be ready to help the new ministry in any way in my power, with a full understanding of some, at least, of the difficulties and limitations of their position. I hope you will tell your friends so. They can consult the Admiralty in perfect confidence that we will do all in our power to make their naval policy a brilliant success: and we will not be hidebound or shrink from new departures provided that whatever moneys they think fit to employ shall be well spent according to the true principles by which sea power is maintained.
I shall not lose hope yet that I may be able to see your beautiful Columbia before another Christmas has passed away.
Meanwhile, accept my most sincere good wishes for you and yours in the year 1912.
Yours sincerely,
Winston S. Churchill
For more Churchillian quotes, check out http://jpetrie.myweb.uga.edu/bulldog.html