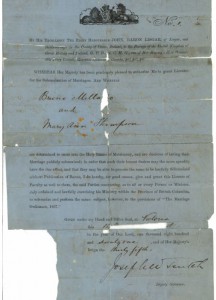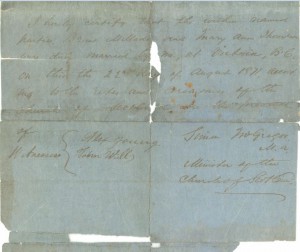 On 20 July 1871 the Crown Colony of British Columbia became a province of Canada.  Less than a month later, on 14 August, a marriage licence was issued to Bruno Mellado and Mary Ann Thompson by the newly appointed Lieutenant-Governor, J.W. Trutch.  It was one of the first official acts of the new province's first vice-regal representative, who had been sworn in earlier that day.  The marriage itself took place on 22 August.  The first image shows the marriage licence, signed by Trutch.  The second shows the back of the licence with a certification of the marriage.
The bride and groom – aged 16 and 27 respectively – had eloped, travelling from Nanaimo to Victoria "in a canoe paddled by four Indians", taking 2 days for the journey.  Below are some photos taken at the time of the marriage.  They celebrated their 50th wedding anniversary in 1921.  In 1971, their last surviving child and their many descendents, had a family reunion in Courtenay.  The licence was on display and was subsequently donated to the Provincial Archives (MS-0086).  The Provincial Librarian and Archivist wrote in acknowledgment of the gift that because 1971 also marked the province's centenary "this gift is of all the more significance to us."
The document is also significant because the marriage itself was the one of a handful of marriages that took place after BC became a province but before the civil registration of births, marriages and deaths took effect in September 1872.  It is therefore not part of the vital event records of the BC Vital Statistics Agency and is instead included with the Colonial Secretary's marriage records (GR-3044).  (The position of Colonial Secretary did not become that of Provincial Secretary until April 1872.)
The Bride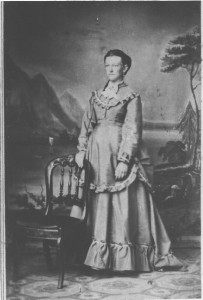 Photo provided courtesy of Donald Gordon
Mary Ann Thompson, was born February 28, 1855 in Nanaimo. Her parents had arrived in November of 1854 from England as part of a shipload of miners under contract to the Hudson's Bay Company and accompanied by their families.  Her father worked in the coalmines.
The Groom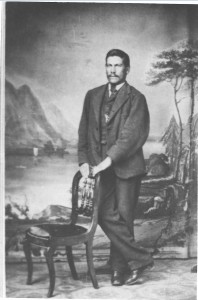 Photo provided courtesy of Donald Gordon
Bruno Mellado, was born October 6, 1843 in Santiago Chile. Son of Spanish parents, he arrived in Victoria via San Francisco with his mother in the early 1850s. Mellado studied drafting and architecture, found employment with Dunsmuir & Sons and later with Canadian Collieries in Nanaimo and Cumberland. He designed the first government school in Nanaimo on Crace Street.