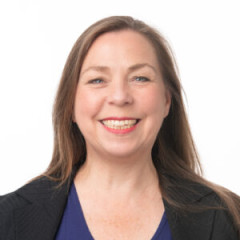 Kate Kerr is the Royal BC Museum's Director of Regional Partnerships and is responsible for liaising with regional stakeholders, GLAM (galleries, libraries, archives, and museums) partners, and government agencies in municipalities across BC. Prior to this role, Kate had been with the Exhibitions team since July 2007 and spearheaded the Travelling Exhibitions Program.

A professional innovator in museums, arts, business, and community, Kate is a multi-skilled creator with the practical ability and depth of experience to make great things happen, from initiating collaborative development to hands-on completion. With broad experience and training in entrepreneurship, not-for-profit management, and organizational development, Kate is skilled in facilitation, community engagement, and strategic planning.

Kate previously owned an art gallery and spent time as a jewellery and metalwork instructor in New Brunswick before moving to British Columbia.

Over the years, Kate has stayed active in the arts community serving as both a newspaper arts columnist and a weekly commentator on CBC/Radio-Canada. She has served on numerous boards including the BC Museum's Association. She also owns InSitu Services, an exhibition fabrication and installation business, is an instructor in the Cultural Resource Management Program at UVic, and has been executive director of Carr House since April 2020.
Education
Masters in Community Development, University of Victoria, 2017
BFA, Art History and Metals, Nova Scotia College of Art and Design, 1992
Study in Metal, Georgian College, 1991
Bachelor of Arts, English and History, Queen's University, 1989