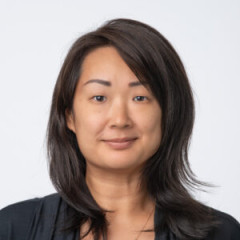 Hanna (Hye-Na) Cho joined the Royal BC Museum as Head of Learning and Community Engagement in 2021. She is responsible for leading the Learning team's development and delivery of all public and school programming activities, with a focus on developing community partnerships and diverse knowledge collaborations across British Columbia.

Prior to joining the Royal BC Museum, Hanna worked on award-winning cultural and museum projects across North America, Europe and Asia, including the Smithsonian National Air and Space Museum, Parks Canada, Surrey Art Gallery, and Calgary Public Library, where her focus was on digital strategy, inclusive design, interpretive development, and audience engagement. Before this, Hanna was the inaugural Curator of Engagement & Dialogue at the Museum of Vancouver (MOV), where she was at the forefront of its strategic effort to re-imagine and transform the MOV into a catalyst for civic engagement, social connection, and platform for provocative urban inquiry. An active member of the museum community in BC and beyond, Hanna has served as a Board member for the BC Museum Association, and is a longtime member of the Museums and Web community, including serving as a juror for its prestigious GLAMi awards.

With academic roots in history and digital humanities, at the heart of Hanna's work is her passion for learning, equity, and social change. She earned her MA in Communication and Culture from York University, and holds undergraduate degrees in History and Communications from the University of Ottawa.