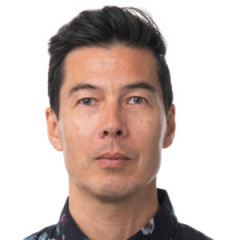 I grew up in Victoria and visited the Royal BC Museum many, many times as a child. In fact, I still have a pencil sketch of a pole in the First Peoples Gallery that I drew as a kid. The dominant animal is a beaver, with which I remember identifying — not for its industriousness, but for the gap between its teeth.
Now, with years of dentistry and decades of work experience behind me, I am grateful to be part of the Royal BC Museum team as the Director of Marketing, Communications and Business Development. As I had served as the museum's Corporate Communications Manager until July 2021, it's an honour to return to the museum and archives in this new role.
It's daunting to consider how best to help communities tell their stories, their histories, of British Columbia. But I am thrilled that I lead, listen to, and learn from a department that is up for the challenge. My team harnesses the power of words and images to promote the Royal BC Museum to its remarkably varied audiences: from museum members to Instagram influencers, from national journalists to readers of local field guides, from long-haul tourists to gap-toothed kids eager to study BC history.
I bring curiosity and a wholehearted enthusiasm for collaboration to this role, not to mention decades of experience as a professional in marketing and communications.
Finally, I am committed to playing my part in ensuring the museum is an inclusive space for colleagues and visitors alike. The museum — both the physical space and the idea itself — is big enough for everyone. I'm not the host, but I sure can open the front door. Welcome.