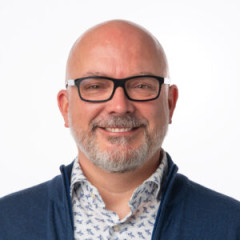 David Alexander is the Acting Vice President of Collections and Research at the Royal BC Museum where he oversees a broad portfolio including museum collections, repatriation, research, registration, conservation, preservation and the BC Archives. For over 20 years, he has been an active member of the GLAM (galleries, libraries, archives, museums) sector, which includes 10 years' experience at the RBCM in various capacities including leading on partnerships, digital and IT and communications.
Nationally, David is chair of the Council of Provincial and Territorial Archivists, co-chair of the National, Provincial and Territorial Archivists Conference. He is an executive member of the National Heritage Digitization Strategy and, past member of the Digital Museums Canada Advisory Committee. Provincially, David is past-president of the BC Museums Association where he led the signing of the first provincial GLAM MOU and the adoption of the
Rod Naknakim Declaration
. He is also past Development Chair and Member at Large for the Greater Victoria Public Library System.
Education
Master's of Applied Communication, Royal Roads University

BA, University of Victoria