We hear on the news about our armed forces personnel helping people overseas during peacekeeping missions. This year we saw our forces helping flood victims and airlifting communities threatened by forest fires here in Canada. But military presence also can help wildlife – yes, wildlife can flourish even on live fire ranges where tanks range far and wide.
A frame from Sebastian Koerner's film footage of a wolf pup and a Marten (Marder) in the Munster-Military training area Lüneburger Heide, Germany.
A recent article in the NewScientist detailed how military ranges are benefitting wolves in Europe. Large carnivores tend to fare poorly when in close contact with our species – we shoot them, our highways and industry fragment and destroy their habitat, and we can thank our automotive industry and its infrastructure for the term Road Kill.
On military ranges, the gun fire is routine and predictable and animals get accustomed to the episodic timing of activity. The range itself and the area nearby generally is devoid of people – except for the short periods during training exercises – and the military presence is a huge deterrent for poachers. I took a Wildlife Management course years ago, and the professor said, "Wildlife management is not about controlling wildlife, it is about controlling people."
Regulation of human activity in military training areas is so effective, wolves seem to prefer testing ranges in Germany – they are more abundant in military training areas than in nearby wildlife management areas. In addition, roads in testing ranges make convenient thoroughfares for large carnivores and have far less traffic compared to highways near parks.
While reading this NewScientist article I had a flashback to my M.Sc. supervisor, Ken Stewart and his recollection of a misty morning searching for snakes around the Canadian Forces Base in Shilo, Manitoba. The testing range near CFB Shilo is adjacent to the Sprucewoods region and what was once Lake Agassiz beachfront, is now undulating terrain and perfect for training against hidden targets. For tank crews, this sandy, gravelly substrate reduces the risk of ricochets during live-fire exercises and makes it easier to retrieve ordnance. This same sandy habitat also is home to some rarely encountered animals and plants in that province.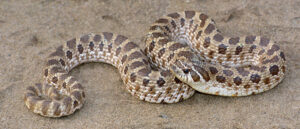 The Plains Hognose Snake (Heterodon nasicus); photo by Dean Hester.
Ken described his morning, bushwhacking through a forested area adjacent to the base and how the conifers reminded him of the Ardennes Forest and the Battle of the Bulge. He imagined he morning's sub-silence shattered by the clanking tracks and diesel engine of a Tiger Tank, and said, "All I needed was Lili Marlène playing on an old turntable to complete the scene." But when Ken was there, it would have been a Leopard, not a Tiger ensuring that all but the most intrepid herpetologists were kept well-clear.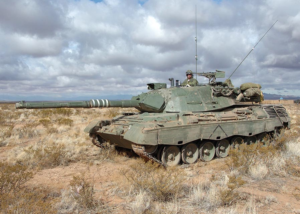 Leopard 1 Main Battle Tank; photo by Sergeant Dennis Power, Army News-Shilo. ©2008 DND/MDN Canada
Essentially, this pocket of land within the ranges of the Northern Prairie Skink (Plestiodon septentrionalis) and Plains Hognose Snake (Heterodon nasicus) is protected by our armed forces and right next door to Spruce Woods Provincial Park. Ken's story dates back years before he and I met – and so the concept of military ranges as critical shelter for wildlife is certainly not new. CFB Shilo, recently saluted for its work on wildlife conservation, has a Base Biologist who oversees natural resource management, gives tours of the sand dunes, and facilitates research in this restricted area. Other bases like CFB Suffield  provide grassland habitat for  a myriad of species including Burrowing Owls, Sprague's Pipit, Pronghorn and Ord's Kangaroo Rat. CFB Gagetown is working to protect one of nature's tanks – the endangered Wood Turtle.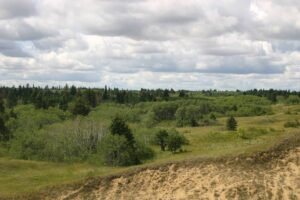 Sandy blow-out areas and mixed woods habitat protected by CFB Shilo, image courtesy of the Manitoba Association of Plant Biologists.
Since the concept of military ranges as shelter for wildlife is not new, the NewScientist story on wolves serves to reinforce the fact that human activity now is the primary factor influencing nature – as also stated in Bill McKibben's book, The End of Nature. If we restrict human activity, nature thrives. Since wolves in BC capitalize on human activity and use pipelines, roads and seismic lines cut during oil and gas exploration, and well-packed snowmobile trails as easy avenues to track Caribou, you can bet BC's wolves also could adapt to military ranges as their relatives do in Germany.  The list of species protected on Department of National Defense (DND) land is extensive and it is good to see that in areas where soldiers practice and you'd expect disruption and devastation – the opposite is true – human activity is restricted, and life adapts to, and is protected by our armed forces.