When reptiles and amphibians take shelter from the cold, they seek refuge above freezing, but not too warm – maybe 2 to 4°C. If it is too cold, tissues freeze and for most animals, this is fatal. Death comes from ice crystal growth which essentially shreds body cells at a microscopic level. Some animals like the Wood Frog (Rana sylvatica) are freeze–tolerant, and consequently are our northern most 'herpetile' along the coast of the Arctic Ocean/Beaufort Sea.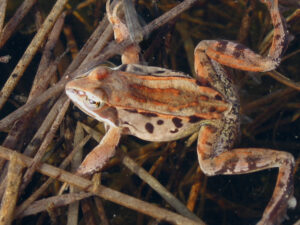 Wood Frog photographed in a ditch near Winnipeg.
If the refuge is too warm, the animal's metabolism burns stored fat and the animal loses weight. My father had a pet Hermann's Tortoise (Testudo hermanni) when he was a child – and in winter, his parents put the tortoise in a box, surrounded it with hay, and placed it in the boiler room to hibernate. The boiler room was too warm for hibernation – the tortoise starved or died of dehydration. Consequently, my grandparents bought a new tortoise each year after burying its 'hibernating' predecessor. I am not shore how many tortoises they went through.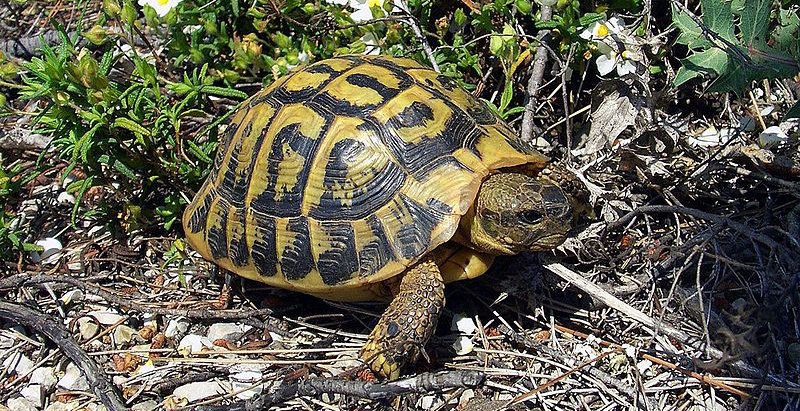 Hermann's Tortoise image from Wikipedia.
On March 5th (2019) I received a set of photos of a frozen adult Wall Lizard found by John Hunter, a Colwood resident. It appeared that the cold, frosty nights of Late February and Early March 2019 had claimed at least one lizard life. The lizard had taken refuge in John's gardening shoes. Its body was placed on a rock in the garden – presumably nature would deal with the remains. March 6th – the lizard awoke and ran off.

Resurrection? No. The Common Wall Lizard (Podarcis muralis), like the Wood Frog, has a physiological ace up its sleeve. It can freeze up to 28% of its body water and still survive. As long as the cold snap is not too long or too severe, they usually survive without trouble. The mild winters of southern Vancouver Island were almost tailor-made for these invaders.
However, shoes obviously were not ideal shelter from the cold. Shoes keep our feet warm because our feet produce heat – the shoe only slows heat loss to the environment. Has anyone ever said to you, "Here, this blanket will warm you up." Truth is, a blanket doesn't provide heat, only slows heat loss – just like winter boots. With no source of heat, and with the open cuff/collar, footwear would act more like a sci-fi cryo-tube than a cozy refuge. At best the shoes shielded the lizard from scavengers.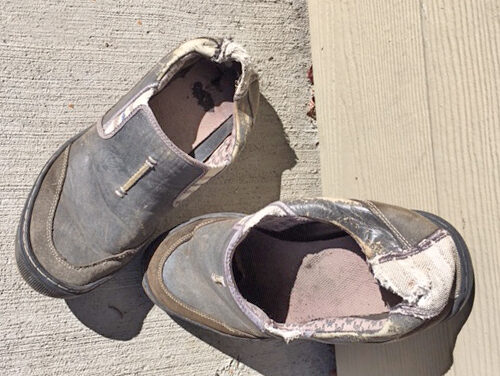 I left my gardening boots outside last week – they were a bit too muddy to bring indoors. But since lizards are still about 60 meters north of my garden – I don't think I will find any lost souls lining the insole.