This time of year, my garden is one big mudslide. Sunny days with a blue horizon are not that common here on Vancouver Island in winter – but when they occur, we certainly enjoy them. So do our slim little European Wall Lizards.
This January and February I collected lizards which were active when the air temperatures were between 5° to 7°C. As a survivor of the Canadian prairies, collecting lizards in winter seems about as strange as an empty room in a museum collection.
I found lizards along Derby Road in my neighborhood, on Moss Rocks, at Gardenworks Nursery in the Blenkinsop Valley – winter lizard activity is nothing new here on Vancouver Island.
Lizards were found in south-facing locations with full sun exposure and when caught, were very warm to the touch. It is obvious that they are effective solar collectors and can elevate their body temperatures well above that of the chilly air – even when it is a bit windy. It is not uncommon to see lizards only exposing their head for a while, then the rest of the body. Perhaps this is a low-risk way to warm blood via blood vessels in the throat before they venture out and deal with intruding conspecifics. I haven't seen any wall lizards feeding in winter – but that doesn't mean they don't. I'll have to examine museum specimens to see what's in the stomachs of winter-caught lizards.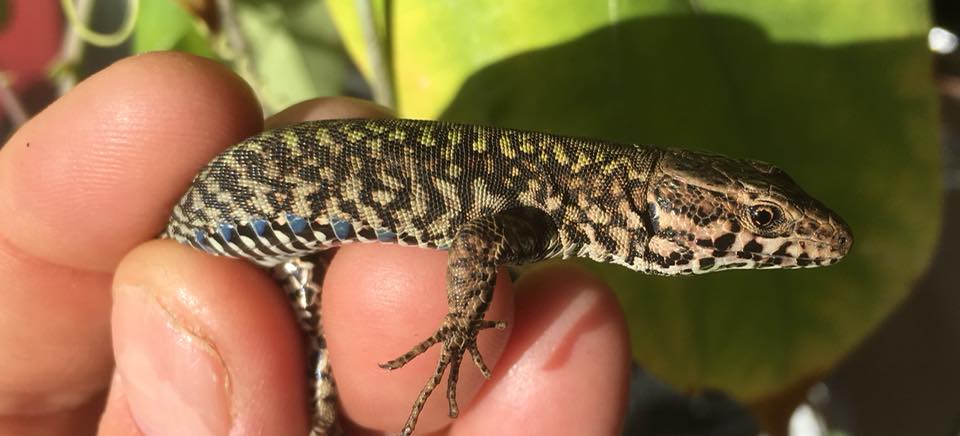 An adult European Wall Lizard caught on Derby Road in Victoria, February 26th, 2018.
As of this February, the Royal BC Museum collection has 30 lots of European Wall Lizard specimens representing surface activity for each month of the year. Some people collect trading cards to get a complete set, I collect lizards to get one per month. Wall Lizards are active in winter as far north as Denman Island, and given that range, probably could extend further north of Campbell River in areas with a warm microclimate.
The collection of lizards for each season put a song from 1971 into my head – so I reworded the chorus a bit…
Winter, spring, summer or fall,
All they have to do is crawl,
And I'll be there, yes I will,
Their spread has to end.