The Doncaster population of the European Wall Lizard probably is 6 years old based on conversations I have had with home owners. In the Google Earth image – the white dots are known locations – the green dots are new locations for 2017.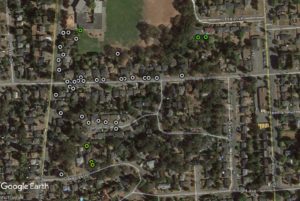 How do I know these are new? Homeowners specifically said they had no lizards in 2016 – but they certainly do now. That's the power of local knowledge and citizen science. The green dots along Oak Crest Drive were newly reported in the spring of 2017, with at least three adult lizards now known on the property. The two green dots along Cedar Avenue to the northeast are based on sightings of at least three young lizards – probably lizards that hatched this year and got well-clear of their parent's territory. Cannibalism is a good emigration motivation.
Based on where lizards were known in 2016, these 2017 records represent range extensions from 20 to 100 meters. Compared to their body size, that's pretty decent dispersal given that adult lizards only grow to 21 cm (those fortunate enough to have a perfect tail), and in many cases, the dispersing lizards are young-of-the-year at 8 or so centimeters in total length.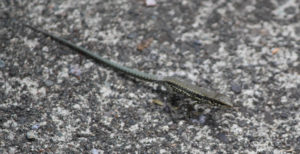 If younglings continue to bolt at this rate and make a bee-line south, I will have lizards in my garden in 2 years. More realistically, it will be another 3 years before we see them along our raised beds or in our greenhouse – not that I'm counting.