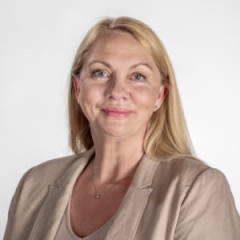 Tracey Drake was appointed to the role of Acting Chief Executive Officer on August 2, 2023. In her new role, Drake will continue to oversee Royal BC Museum operations, BC Archives, and IMAX, as well as the critical work underway with community engagement and the Collections and Research Building project.
An experienced and multidisciplinary senior executive, Tracey joined the museum in 2021 as Head of Marketing, Communications and Business Development and was promoted to Vice President of Strategic Operations. Passionate about the importance of the role of the museum in truly representing diverse communities across BC, she will steward the modernization of the museum. With a collaborative leadership approach to realizing transformative change and organizational stability, Tracey's knowledge and experience will be instrumental in advancing the museum's strategic direction.
Prior to joining the Royal BC Museum, Tracey's career in executive leadership and strategic management consulting spanned more than two decades, working with high profile organizations across the tourism, luxury lifestyle, cultural and non-profit sectors. Deeply committed to community, Tracey has worked tirelessly for numerous charities, including BC Children's Hospital Foundation, BCSPCA and Dress for Success, and was recognized as a National Philanthropy Day finalist for her signficiant fundraising efforts.
Tracey holds an MBA from the University of Leicester, Executive Strategic Leadership and Change Management education from Cornell University, and a degree in Hospitality and Tourism Management from Algonquin College.