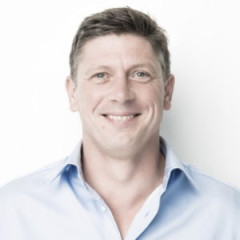 Dr. Scott Cooper has spent twenty years protecting, promoting and transforming cultural sites and institutions. At the Royal BC Museum Scott is responsible for advancing the museum's collections and knowledge resources, developing research and academic partnerships, and ensuring that the museum is a truly provincial institution that is used by, and of value to, citizens throughout British Columbia. He leads a team of staff who oversee collections, registration and conservation; curation, research and academic relations; online, onsite and offsite learning and public programmes; visitor experience; and the design, production and presentation of exhibitions as well as the museum's First Nations and Repatriation Programme department.

Scott read building engineering at the University of Manchester and architectural conservation at Edinburgh College of Art. He was awarded a UNESCO scholarship to study stone conservation in Venice and subsequently returned to Edinburgh College of Art where he was awarded the Principal's Scholarship to complete his doctoral research on Scottish architectural history. Scott is a Member of the Institute of Historic Building Conservation, a Fellow of the Society of Antiquaries of Scotland and a Fellow of the Getty Leadership Institute where he continues as faculty.

Scott joins the Royal BC Museum from the Qatar Foundation where, as director of Museums, he developed four heritage house museums, including the first museum of slavery in the Islamic world. He was previously CEO of Fulham Palace, where he oversaw the award-winning regeneration of the Tudor residence of the bishops of London. He was treasurer of the International Council of Museums (ICOM UK) from 2008 to 2011, and is the former head of Hammersmith and Fulham Archives.

Scott enjoys hill walking, fly-fishing and golf but with three young children to keep him busy rarely does any of them.
Education
Claremont Graduate University - Getty Leadership Institute, 2015

Doctor of Philosophy, Architecture - Edinburgh College of Art, 2000

Diploma, Conservation - Centro Europeo per i Mestieri della Conservazione del Patrimonio Architettonico, Venice, Italy, 1993

Postgraduate Diploma, Architectural Conservation – Edinburgh College of Art, 1992

Bachelor of Science (Honours), Construction Management – University of Manchester, 1991