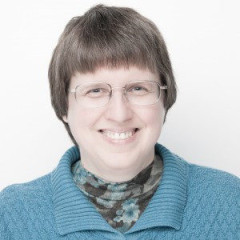 Marji Johns came to the Royal BC Museum in 2011 with 30 years of job experience in paleontology, having worked as a research consultant following her earlier geoscience career at the Geological Survey of Canada (GSC). She has a BSc from the University of British Columbia and an MSc in micropaleontology from the University of Victoria. Her graduate work resulted in award-winning thesis research and the first comprehensive paper on Triassic ichthyoliths from northeast BC, where she described and illustrated many new microscopic fish teeth and scales and put them into a geologic context.

With her colleagues at the University of Victoria and GSC, Marji has published several scientific papers on microfossils and geology of coastal and northern BC. At the museum, she leads a special project on Vancouver Island and Gulf Island Cretaceous rocks. The project—involving research associates, students and volunteers—has the goal of providing new insights into the region's geology, ancient species and environments.

Expanding the Royal BC Museum collections with new fossil examples from BC's diverse landscapes and geology is a priority for Marji. She and a volunteer team are developing fossil information and images to be an integral part of a revised paleontology data system. Improved care and preparation of the specimens are also high on her to-do lists, and she continues to enthusiastically support paleontology and geoscience learning at the museum.
Education
BSc, University of British Columbia

MSc, micropaleontology, University of Victoria
Areas of Interest
BC paleontology and geoscience

Mesozoic and Cenozoic fossils of British Columbia

Triassic fishes

West coast geoscience

Micropaleontology