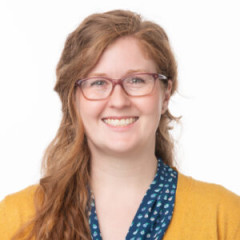 Megan Doxsey-Whitfield joined the Royal BC Museum in the fall of 2019 as objects conservator. One of Megan's first tasks at the museum was to work with Chief David Knox and the facilities department on the Kwakwaka'wakw Heraldic Pole totem pole restoration project, which saw the totem be moved, painted inside the museum, and re-raised on a new support.
Part of Megan's role focuses on developing the museum's capacity to treat wet archaeological materials from BC sites which are a particularly vulnerable and important part of the archaeological record. Megan is also focused on caring for the historic buildings on the museum precinct, including Helmcken House and St. Ann's Schoolhouse.
Before joining the museum, Megan worked as a contract conservator in the Archaeology Lab at the Canadian Conservation Institute, was an Andrew W. Mellon Fellow in Objects Conservation at the National Museum of the American Indian at the Smithsonian Institution in Washington, DC, and served as intern and contract conservator at the Field Museum of Chicago working on a collection of bronze sculptures.
Education
BA in Art History from University of British Columbia
MAC (Masters of Art Conservation) specializing in Objects Conservation from Queen's University