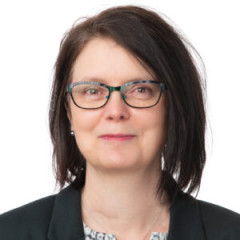 Lisa joined the Royal BC Museum, People and Culture department in January 2022. She brings a wealth of experience to the role (i.e., client-facing, corporate, strategic, operational and sector) and strives to align people strategies to organizational goals.
Lisa began her BC Public Service career in 2006 and prior to the BC Public Service she spent ten years working in the non-profit sector. During her career, she has led diverse, professional teams and provided leadership to teams and organizations on culture and engagement, change management, leadership development, learning and development, diversity and inclusion, workforce planning and organizational design.
Lisa values humility, living by one's values, finding joy each day, championing others, working in partnership, and providing leadership and strategic advisory services as a business partner.
Lisa has an Advanced Diploma in Human Resources Management and holds a Certified Professional in Human Resources (CPHR) designation. Lisa actively volunteers and has served on numerous boards in the community, supporting many community members in various volunteer roles. Volunteering keeps Lisa connected to her community, provides an opportunity to give back, learn new skills and meet like minded people.