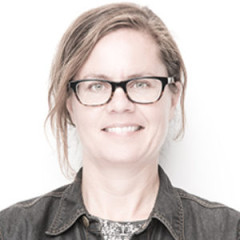 Leah comes to Victoria via Nelson, BC, where she spent the last ten years as executive director of Touchstones Nelson: Museum of Art and History. Previously she worked at the Vancouver Art Gallery for several years as an assistant curator. Leah has a master's degree in art history from the University of Toronto and completed her undergraduate degree at the University of Victoria.

Most recently, Leah project managed an interdisciplinary project, Roll On Columbia, to bring awareness to regional audiences along the Columbia River of the upcoming renegotiation of the Columbia River Treaty between Canada and the US. The project focus on public values and resource extraction both in the 1950s and now were recognized by the Canadian Museums Association, who awardedRoll On Columbia the 2015 Award for Outstanding Achievement in Exhibitions.

As Director of Research, Leah drives the strategic direction of the museum's curatorial team in alignment with the vision and values of the Royal BC Museum and in collaboration with other divisional teams. Among other responsibilities, Leah's team provides exceptional stewardship of the Royal BC Museum's human and natural history collections, produces scholarly interdisciplinary research that advances understanding of the museum and archives' collections, and generates creative ideas and rich content for audience-focused public programs, exhibitions and websites.
Education
Master's Degree in Art History from the University of Toronto

Undergraduate degree, University of Victoria