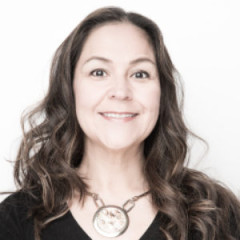 Lucy Bell joined the Royal BC Museum in January 2017 as the Head of the First Nations Department and Repatriation Program. Lucy's department brings the former ethnology and archaeology departments onto one team. A member of the Haida Nation, Lucy is a founding member of the Haida Heritage and Repatriation Society, where she has been at the forefront of the Nation's repatriation program.
She began her career in 1995 at the Royal BC Museum as part of the Aboriginal Cultural Stewardship Program and has since developed, delivered and managed an array of pioneering initiatives aimed at increasing awareness of First Nations culture.
Since 2005, Lucy has coordinated the return of more than five hundred Haida ancestors from museums throughout North America and the United Kingdom. The documentary
Stolen Spirits of Haida Gwaii
charts the success of just one strand of this remarkable program.
Prior to joining the Royal BC Museum, Lucy worked for the Xaad Kihlgaa Hl Suu.u (Speak Haida Society). She is passionate about the repatriation and revitalization of language resources from museum and archival collections. Lucy has presented on both repatriation and language revitalization at several conferences around the world, advised on the development of a number of exhibitions on Indigenous culture and promoted Haida culture in both print and broadcast media.
Education
MA, Indigenous Language Revitalization, University of Victoria

Diploma in Cultural Resource Management, University of Victoria

B.A., Anthropology, University of British Columbia