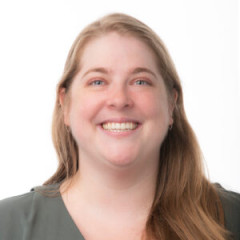 Jenny Arnold first joined the Royal BC Museum in 2015 as a summer student program facilitator for the Species At Risk travelling exhibit. That summer she travelled from Vancouver to Osoyoos engaging visitors at each stop with interactive exhibits and activities. Since then Jenny has worked as a box office attendant, visitor experience designer, learning program producer, and now as a digital educator with the Learning team at the Royal BC Museum.
Jenny coordinates the museum's Digital Field Trip program and EdTech equipment. She is comfortable both in front and behind the camera, with audiences big and small and of all ages! Jenny also assists with livestreams, webinars, onsite programming, and the Learning Portal.
Jenny has worked at other heritage institutions, including the Museum at Campbell River, and thrives in environments that encourage life long learning.
Jenny has a Bachelor of Education from the University of Victoria and experience and interest in:
K-12 classroom teaching
Curriculum implementation
Early learners
Digital media
Video and audio production
Heritage interpretation
Education program management