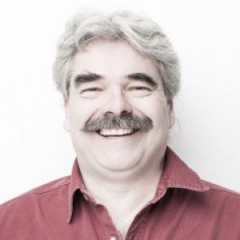 George Field earned a diploma in art conservation techniques from Fleming College, Ontario. He went on to work at the BC Forest Discovery Centre in Duncan and joined the Royal BC Museum in 1989.

George's work bridges that of the Royal BC Museum Exhibits and Conservation teams. He was responsible for the installation of positive pressure exhibit cases in the permanent galleries, reducing and almost eliminating the need for cleaning artifacts on display. He is an expert packer and mount maker and has devised many new methods and adapted materials for use in novel situations.

George has been recognized by local First Nations communities for his excellent work on totem poles, and for his cooperation with staff and volunteers at small museums and cultural centres around British Columbia.
Education
Diploma in Art Conservation Techniques, Fleming College, Ontario
Areas of Interest
Ethnographic and industrial collections

Historic house preservation

Construction of object supports, including brass, wood and Plexiglas® mount making

Travelling exhibits conservation