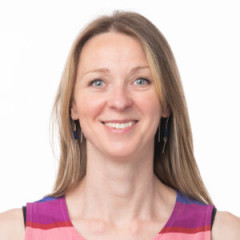 Emma began her career in archives at Gloucestershire Records Office, UK, in her early 20s, assisting the public with genealogical research and surviving a daily dusting of red rot from the stacks. She thoroughly enjoyed the experience of providing daily reference services and sharing tea with the archivists, who united around the merits of Alan Rickman: she realized she had found her calling and her people.
Since then, she has gained international experience in archives, heritage, and information management, working for organizations as diverse as the BBC and Transport for London, the First Nations Health Authority and BC Teachers Federation in Vancouver, and Public Record Office Victoria in Melbourne, Australia. She fell in love with Canada after back-packing her way across the country in 2009 and became a citizen in 2019. A past President of the Archives Association of British Columbia, Emma served on the Steering Committee on Canada's Archives Response to the Report of the Truth and Reconciliation Commission Task Force (2016-2019), and as Chair of the Council of Provincial and Territorial Archivists (2019-2020 and 2022). Most recently, Emma led the BC Government's team of archivists within the Ministry of Citizens' Services. Emma Wright holds a Masters in Archival Administration from the University of Wales, Aberystwyth and completed a BA in English Literature at the University of Warwick in the UK.
As Director of Archives, Emma ensures exceptional stewardship of, and access to, British Columbia's provincial archives. Her team at the BC Archives is responsible for maintaining and improving the physical state of the province's archival collections, while enabling various modes of collections access and use.
Education
Master's in Archive Administration, University of Wales, Aberystwyth

BA, English Literature, University of Warwick
Areas of Interest
Archives

BC and Indigenous history

Digital archives

Information and records management

Freedom of information

Privacy

Business records

Literary and art history