A little while back I was musing over a spot on my Wall Lizard map that shows a large expanse east of Highway 17 between Cordova Bay Road to Mt Newton Cross Road that appears to be Wall-Lizard-free turf. Wall Lizards are crawling everywhere just the other side of the highway on Tanner Ridge. Either no one has reported lizards from this area – and it seems unlikely given how many reports I receive each year, or lizards have not been able to cross HWY 17.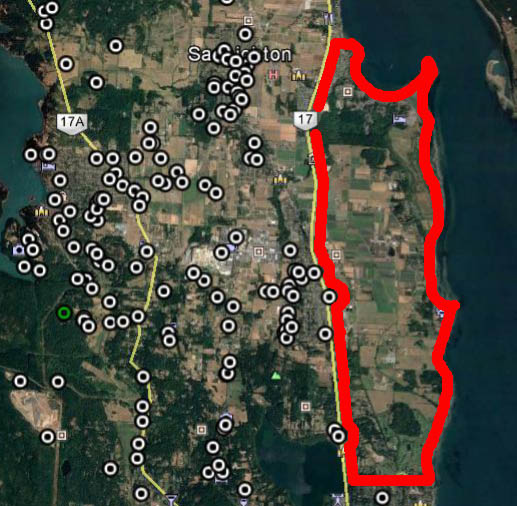 Cedar Hill Road in the Southeast Cedar Hill area also seems to be a decent barrier even though it is not a particularly busy road. Lizards have been in that area for about 6 years(as of 2016) and have crossed Derby Road without a problem – but not Cedar Hill Road. Cedar Hill may be just busy enough to limit the survival of adventurous lizards.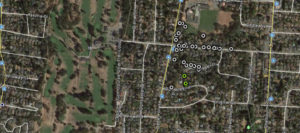 It seems interesting that a lizard as fast as the Wall Lizard could not cross – but then again – why would they? Young ones disperse to avoid cannibalism, but perhaps the noise, vibration and sight of passing vehicles is enough to dissuade all but the most suicidal of lizards.

I recently tripped across an article detailing road crossing behaviour in snakes (Andrews and Gibbons 2005). In their study, smaller snakes seemed to avoid crossing roads, whereas larger snakes have no problem with the concept. I wonder if the same is true for Wall Lizards? Interestingly, all snake species they studied crossed perpendicular to the road's length – an adaptive behaviour minimizing distance and time on the tarmac. Some species froze in place when a car passed – that is maladaptive – and significantly increased an animal's exposure to vulcanized rubber.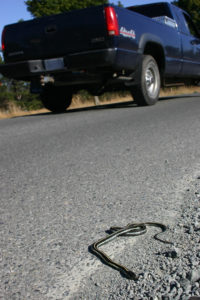 I have not seen Wall Lizards crossing a street – but would be interesting to see if they too cross perpendicular to the curb, and whether they blast across or dart and pause – unintentionally increasing their risk of catastrophic z-axis reduction.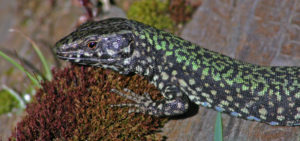 Andrews, K.M., and Gibbons, J.W. 2005. How to Highways Influence Snake Movement? Behavioural Responses to Roads and Vehicles. Copeia 2005(4): 772-782.