Just tripped across this fish while sorting out odd records in the RBCM fish database.
999-00114-001 – unidentified fish – Family Triglidae (Searobins, Gurnards)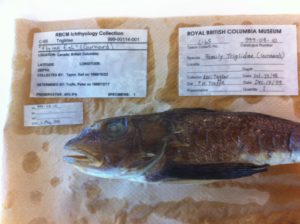 Well, it turns out to be Prionotus stephanophrys – a Lumptail Searobin – and a new family, genus and species for BC.  Three other triglid species (two of them are Prionotus species) are known to stray into Atlantic Canada.
This one was caught in 1998 on La Perouse Bank, it was added to the RBCM collection in 1999, and sat there ever since. No one had taken a second look at this specimen – until today. It was completely new to our system and as such, I had to add the genus and species to our database's taxonomic tree.
Until now, its northern record was off the mouth of the Columbia River – this new(ly rediscovered) record extends this family north about 260 km in the eastern North Pacific Ocean.
The lower three pectoral rays of this fish are almost like fingers – it probably walks along the bottom like other triglids – the walking mechanism makes me think of face-hugger Alien larvae.