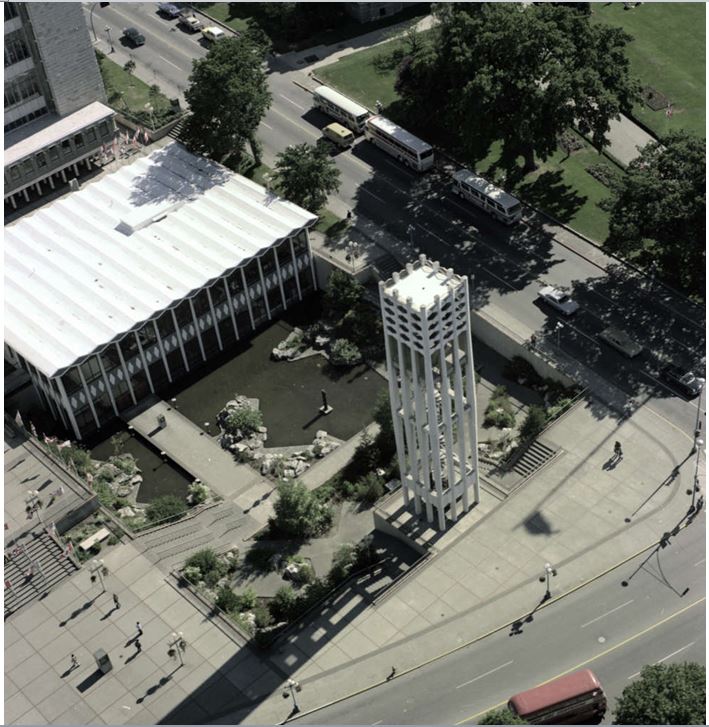 Image I-03188, Aerial view of new Archives building, ca. 1977.  "Spirit" in pond.
In 1965 the Department of Public Works began to build the complex known as Heritage Court at the corner of Government and Belleville Streets in Victoria.  Heritage Court was built using Federal and Provincial Centennial funds to provide facilities for both the new Provincial Museum and the Provincial Archives of British Columbia.
Early in the planning stage it was decided that the site should contain works of art by British Columbia artists done in the general design theme of "Man and Nature".  A sub-committee chose 28 works including screens and murals, carved wooden building doors and massive works of sculpture.
Four of the exterior sculptured pieces still stand today and I am lucky enough to be able to see one of them from my office window.
This piece is called "Spirit" and it was created and cast in bronze by Elza Mayhew in 1964.  It was displayed at the Venice Biennale in the Canadian Pavilion and then made its way back to British Columbia via exhibits at Ottawa and Prince Edward Island.
I haven't been able to track down exactly when it was finally installed in the Archives pond, but it was probably around 1971.
Before reaching the pond, "Spirit" spent some time in Elza Mayhew's studio and was one of her many pieces that provided the basis for a paper rubbing.  The rubbings were done by Isamu Akino, a Japanese artist who created them by laying pieces of wet Japanese paper on the front, back and tops of the sculptures.  The paper was then formed around the relief portions of the sculpture and rubbed with charcoal or some other agent, to produce a raised paper cast.  Once dry, the paper rubbing was mounted onto a paper and wood frame.
We were recently lucky enough to acquire a mounted rubbing showing the front view of "Spirit".  This generous gift from the Mayhew family has given us a new view of the beautiful bronze sculpture more than 50 years after its creation.
My colleagues Kay (Preservation Specialist) and Cindy (Exhibit Fabrication Specialist) have designed and created a special padded aluminum rail and clip system to safely hold the work in the art vault.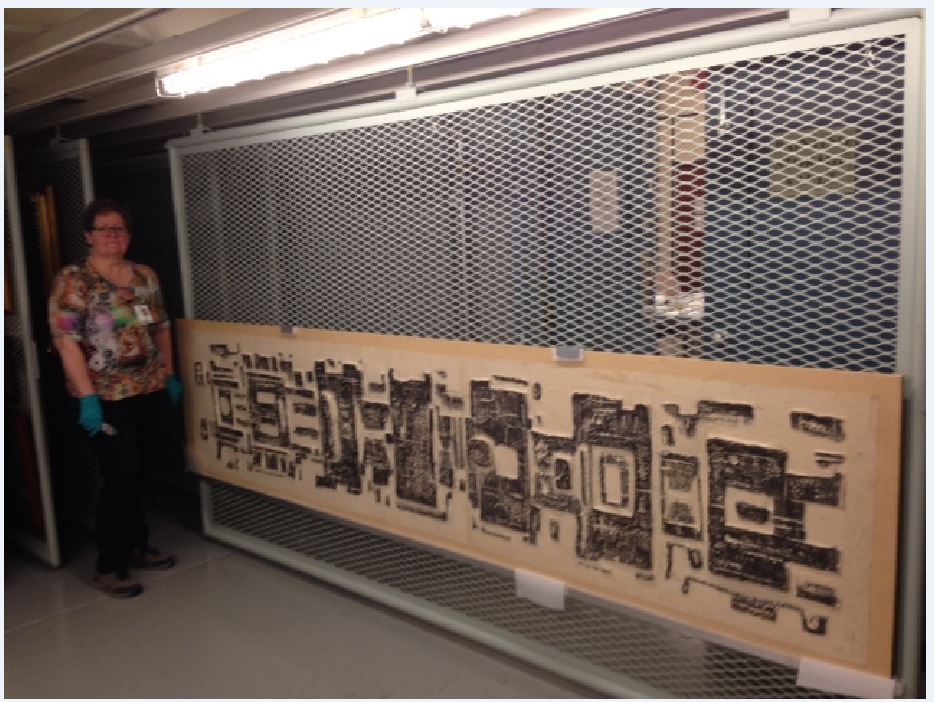 Cindy secures the rubbing in its custom built aluminum rail and clip system
I have described the rubbing as PDP10261 and you can see it in the BC Archives collections search here:
http://search-bcarchives.royalbcmuseum.bc.ca/rubbing-of-spirit